December 18, 2014
CMU Home Page Gets New Look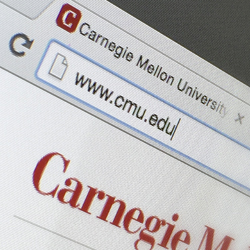 Carnegie Mellon's
home page
, the university's global "front door," will unveil a new look in early January to better visually represent the university to the growing number of online visitors using mobile devices.
The home page refresh is part of a longer-term cmu.edu Web redesign project that will include a discovery process and an overhaul of the site architecture.
In addition to a new look that will feature larger images and a more streamlined design, the refresh includes changes in the editorial content on the page.  
A dominant story will be featured twice a week and will primarily focus on stories that promote CMU's international presence and strategic topic areas, such as
BrainHub
, the
Scott Institute for Energy Innovation
, the
Simon Initiative
, the
Tepper Quad
and
Presidential Scholarships and Fellowships
. Three news stories on the page will change often.
Shortly following the home page refresh, the CMU
news website
will be revised, becoming the main source of news for the university community and external visitors.
The CMU home page was most recently designed in 2007, and refreshed in 2009. Statistics reveal that the majority of visitors to the site are looking for admission information.
###