September 29, 2011
Patented Technology Could Help Develoment of New Treatments for Brain Injuries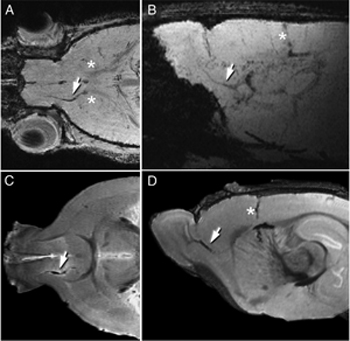 Carnegie Mellon biologists have developed an MRI-based technique that allows researchers to non-invasively follow neural stem cells in vivo. The recently patented technology could be used to further the study of neural stem cells and inform the development of new treatments for brain injury caused by trauma, stroke, Parkinson's disease and other neurological disorders. The findings, authored by Associate Professor of Biological Sciences
Eric Ahrens
and Biological Sciences postdoctoral student
Bistra Iordanova
, are published online in the journal NeuroImage.
Legend had it that once a brain cell dies, it's lost forever. Neuroscientists now know that this is purely myth, having proved that the brain is constantly producing new neurons. These neural stem cells are born deep in an area of the brain called the subventricular zone. As time goes on, the cells, also called neuroblasts, make their way to other areas of the brain where they mature into functioning neurons.
"If we could better understand the molecular migratory signals that guide neuroblasts, we could try to redirect these cells to areas of the brain harmed by stroke or traumatic brain injury. With this information, scientists might be able to one day repair the brain," said Ahrens, who also is a member of the Pittsburgh NMR Center for Biomedical Research.
Read more:
http://www.cmu.edu/news/stories/archives/2011/september/sept27_stemcellsmri.html
Pictured above: MRI imaging can be used to follow the migration of neuroblasts tagged with a ferritin-based reporter.  Tagged cells are pointed out by the white arrows.