September 15, 2011
CMU Partners With Rwanda; Rwandan President To Speak Friday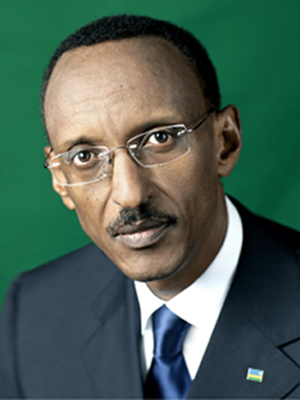 Paul Kagame,
president of the Republic of Rwanda, will deliver a keynote address at 5 p.m., Friday, Sept. 16 in Rangos Ballroom, University Center, about Rwanda's strategy for continued growth in the global economy, its role as East Africa's leader in information and communication technology, and the collaborative role that Carnegie Mellon will play to help his country continue to build its knowledge-based economy. To watch the webcast go to 
http://www.cmu.edu/event/rwanda
Prior to his talk, Kagame and Carnegie Mellon President
Jared L. Cohon
will announce that Carnegie Mellon will offer graduate engineering degree programs in Kigali, Rwanda, beginning in fall 2012. CMU initially will offer a Master of Science in Information Technology program. In addition, Carnegie Mellon University in Rwanda will collaborate with the Government of Rwanda to develop an innovation incubator, advanced practical training programs, executive education programs and a mobility research center.  
"Higher education is a key to success in the global economy," Cohon said. "We are pleased to bring our expertise in mounting international programs and our culture of innovation to Rwanda and to contribute to the country's emergence as a regional technology hub."  
"We selected CMU because its great academic and research reputation fits nicely with Rwanda's vision of becoming an information and communications technology-led economy, and is completely in line with our goal of training a critical mass of IT professionals with an innovative and entrepreneurship mind," said Rwandan Minister of Education
Pierre Damien Habumuremyi.
The program will be directed by
Bruce H. Krogh
, professor of electrical and computer engineering at CMU.
Michel Bezy,
a distinguished service professor in CMU's Department of Engineering and Public Policy, will be associate director.
For more information go to
http://www.cmu.edu/rwanda
.
Attendance Requirements, Closures and Traffic Restrictions:
Attendance to President Kagame's talk is restricted to those who have already replied to the invitation. Seating is on a first-come, first-served basis.
Check-in will begin at 3 p.m. at the Rangos Ballroom doors at the top of the Kirr Commons stairway.
You must present a CMU photo ID to gain entrance.
Due to security measures, attendees will be required to pass through metal detectors. No personal items, such as laptops, cameras, backpacks, large items or bags will be permitted.
You must be seated by 4:45 p.m.
The Forbes Avenue entrance to the East Campus Garage and the University Center loading dock, parking area and turnaround will be closed from 2 to 7:15 p.m. Access to the East Campus Garage will be available via the Beeler Street entrance only. Vehicles will be permitted to exit the garage via both the Beeler Street and Forbes Avenue exits.
Expect more than usual vehicular and pedestrian traffic around the East Campus Garage and stadium as Central Catholic High School's football team is hosting Kiski Area at Gesling Stadium beginning at 7:30 p.m.
Front counter operations at the University Center Post Office will close at 1:30 p.m. Package pick-up will remain open until 6 p.m. Alternate post office locations are at 347 S. Bouquet Street in Oakland and at 1800 Murray Ave. in Squirrel Hill.
Pictured above is Rwandan President Paul Kagame.