November 03, 2011
Trick or Treat
It's The Great PumpkinBot, Charlie Brown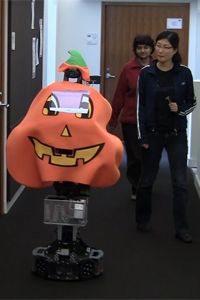 For Halloween, the CORAL Lab's CoBot2 robot donned a pumpkin costume to deliver candy bars to 300 delighted denizens of floors 6-8 of the Gates and Hillman centers, stopping at open doors and saying "Knock knock" outside closed doors.
For CoBot, which has been running errands for people for more than a month, assuming the role of Great PumpkinBot represented a new technical challenge, said Manuela Veloso, professor of computer science.
CoBot negotiated the hallways and elevators autonomously, asking people for assistance when it recognized it needed help. But instead of following explicit instructions — such as, deliver item A from here to there — it had to figure out a delivery route, determine which doors were open and, as it made repeat trips, remember which offices it had missed on previous trips.
CoBots 1 and 2 continue to be available for errands and other tasks, though Veloso cautions that the hours they are available are irregular. To sign up or to schedule a task, visit
http://neontetra.coral.cs.cmu.edu/cobot
. In the past year, the robots have logged about 80 autonomous miles as they have traversed the GHC corridors, Veloso said.