July 21: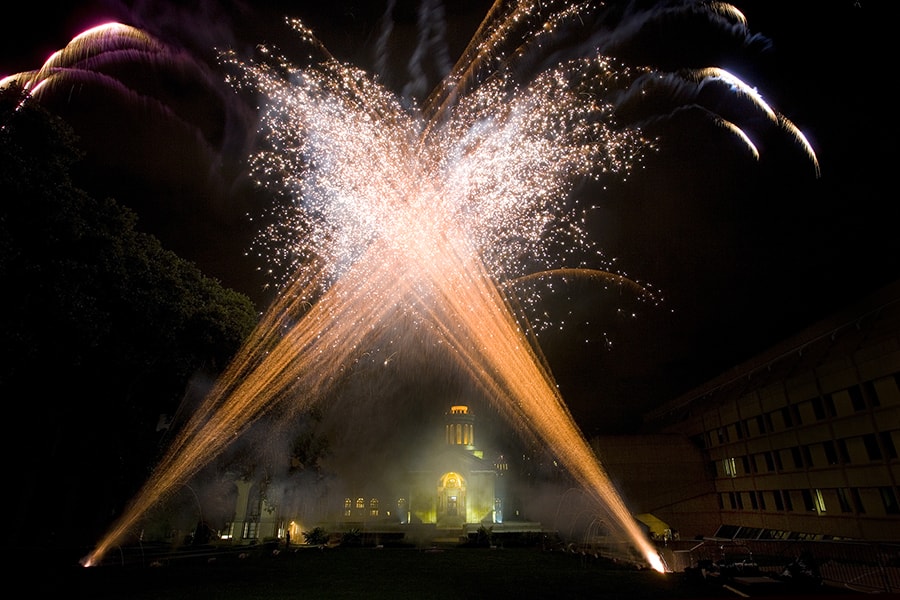 Fireworks. 9:35 p.m., College of Fine Arts Lawn. Enjoy the fireworks that were postponed on July 4 due to the weather.
July 24:
Professional Development Workshop — Master the Project: Strategies for Non-Project Managers. 9 to 11 a.m., Danforth Conference Room, Cohon University Center. Are you responsible for completing projects, but you are not a project manager? Managing projects without the skills to succeed can be frustrating and discouraging. If you are looking to develop a systematic method to address your projects, join us as we explore project management skills and discover how they can simplify your process for managing projects. In this interactive workshop, you will develop a structured system to plan milestones and timelines, initiate action items, implement follow-up strategies and track the progress of your efforts. Register. 
CMWA Lunch and Mingle. 12 - 1 p.m., Legacy Plaza. Enjoy the summer weather and eat your lunch outside with the Carnegie Mellon Women's Association at Legacy Plaza overlooking Geisling Stadium. This will be an informal gathering and a great way to get to know the CMWA membership. Non-members are welcome. Rain location: second floor of the Cohon University Center at the dining tables outside of Rangos Ballroom. Find out more about the CMWA.
July 26:
CANCELLED! Professional Development Workshop: Digital Learning Series. 9 a.m. to 4:30 p.m., Danforth Conference Room, Cohon University Center. Are you working to leverage digital learning as part of your organization's learning strategy? Creating digital learning experiences that connect with learners and positively impact their learning experience requires an intentional and systematic approach. The Digital Learning Series is a day-long workshop where we will explore eLearning best practices, eLearning authoring tools, and strategies to create your eLearning course. If you are interested in creating digital learning experiences for your learners, please join us and learn how to plan and execute a successful eLearning program. Register.
July 31:
Professional Development Workshop: Design Thinking for Creative Problem-Solving. 9 to 11 a.m., Connan Room, Cohon University Center. Do you want to learn strategies to be creative and innovative? As Carnegie Mellon is known for its collaborative and innovative environment, how can you tap into your creativity to tackle everyday problems? In this session, you will discover how design thinking can be used as a dynamic approach to craft innovative solutions to workplace challenges. Register.
August 1:
Parenting Your College-Aged Kids.  2 - 3 p.m., Connan Room, Cohon University Center. Once a child leaves home, whether to attend college or embark on a career, the parent's role often feels unclear. Deciding how much emotional and financial support to offer a child who is essentially an adult can be difficult to determine. Many parents want to continue to support their children, but aren't sure how to help without appearing to interfere with the child's life. This program is offered by Guidance Resources, the CMU employee assistance provider. Register.
August 2:
Retirement Planning Workshop — Money at Work 2: Sharpening Investment Skills. 8:30 - 9:30 a.m., Rangos 1, Cohon Center. Is your savings strategy on the right track? And if you are off track, do you know what adjustments to make? TIAA's workshop leader will provide insight into complex investments. We will discuss how to:
Assess how much money you may need to fund the future you want;
Plan for, and understand the tax implications of, each of your income sources; and
Determine your investing personality and the investment options that may fit your type. 
Retirement Planning Workshop — The Starting Line: Beginning to Save for Retirement. Noon - 1 p.m., Rangos 1, Cohon Center. Smart steps in the beginning of your career can help lead you to a more solid financial future. TIAA's workshop leader will show you financial tools and offer practical insight so you can:
Learn the real effect of time on money and how to evaluate and manage debt;
Learn the benefits of contributing to your employer-sponsored retirement plan; and
See how budgeting can help you find money where you least expect it — and help you save it.
August 7:
New Hire Orientation. 9 a.m. - 1 p.m., Rangos 1, Cohon University Center. Are you new to the university? Do you have a new staff member within your organization? The New Hire Orientation program is designed to formally welcome new staff members to the university. New employees are encouraged to attend within their first 30 days of employment to obtain useful information about the institution, resources, services and employee benefits. Register.
Working with Images in v5. 9:30-11 a.m., Danforth Conference Room, Cohon University Center. Having rich imagery on your website greatly enhances user experience and can improve messaging effectiveness. This workshop is designed to give you an introduction to using images and photography in the university CMS. You will learn where to find images to use, how to add images to your pages and best practices. Though the principles and tools discussed in this workshop will help you with any website you create, we will be focused on the new design templates for the university's content management system (CMS). You are welcome to bring your computer to this session, but it's not required. Register.
August 8:
Professional Development Workshop — Compass Points: Discover Clarity and Focus in Your Work. 1:30 - 3:30 p.m., McKenna/Peter/Wright, Cohon University Center. Most organizations espouse a mission and vision in order to provide clarity and focus for employees' work. Your organization may have mission and vision statements, but do you? In this workshop, you will explore strategic visioning by establishing a personal mission statement and using it as a guide to identify opportunities to align your goals with your organization's mission, vision and values. Whether you are new to your role and are curious about how you fit into the organization's work or are a seasoned staff member who wants to re-energize your focus, this workshop will help you create clarity and focus in your work.  Register.
August 13-16:
University-Wide Graduate Student Orientation
. 8:30 a.m. - 6 p.m., various locations on campus. The University-Wide Graduate Student Orientation will provide incoming master's degree and doctoral students with an introduction to university-level resources, offices, and programs and services that are focused on student success.
Find out more.

August 18:
Freshmen Move-In Day. 10 a.m. - 3 p.m. First-year students will move into their residence halls for the start of Orientation week.
August 19:
Welcome Day and Family Orientation.
9:30 -10:45 a.m.: President's Welcome
11 a.m. - 3:30 p.m.: College and academic sessions
11 a.m. - 4 p.m.: Family orientation programs, open houses, and events, including a campus resource fair, banking information, information sessions, and an open house at the Center for Student Diversity and Inclusion. Campus offices like Health Services, the HUB, Housing Services, Dining Services, and the University Stores will be open for students to complete university business.
4 - 5 p.m.: Family farewell
August 23:
Professional Development Workshop: Communication Strategies in the Workplace. 9 - 11 a.m., Scotland Yard Room, PPG Place. Would you like to optimize your communication skills in the workplace? Interested in gaining insight to the different communication styles of your co-workers, colleagues and supervisors? Puzzled by how to navigate communication in a complex organization? Participants will be introduced to communication theory, styles and strategies. Register.

August 29:
Professional Development Workshop: Increase Your Productivity with Cloud Computing. 1:30 - 3:30 p.m., Connan Room, Cohon University Center. What is cloud computing? This session will introduce you to cloud computing and several different tools that utilize this technology. You will recognize how some of these tools can help increase your personal productivity. You will learn about some of the security risks associated with using cloud technology and ways to minimize the risks. Finally, you will develop your own action plan for increasing your productivity using cloud computing. Register.