Summer 2016 Research Experience for Undergraduates
With funding from CMU's Program in Interdisciplinary Education Research (PIER) and departments of Psychology and Human Computer Interaction, Kgomotso Lenah Madisa (University of The District of Columbia, Class of 2017) and Camille Warner (University of The District of Columbia, Class of 2017) participated in the PIER-REU program in the Summer of 2016.  With funding from the American Psychological Association (APA) and CMU's Psychology Department, four more talented students joined us for the summer: Emily Chavez (California State University, Fresno, Class of 2018), Ashli-Ann Douglas (Fisk University, Class of 2017), Nicole Landa (Illinois State University, Class of 2017), and Roslyn Mays (University of Florida, Class of 2017).
All of the students also participated in the CMU Go Research program, which organizes the housing and social events, offers seminars on topics such as responsible conduct of research, planning for graduate school, the life of a graduate student, etc.  In addition, Professor Anna Fisher organized a set of experiences specific to this cohort of six students, including five reading group sessions with different faculty members, several extra sessions on applying to graduate school, career options, etc., welcome and farewell events, and a student final presentation session that will be attended by a wide audience.  Thanks to professors Anna Fisher (Psychology), Vicki Helgeson (Psychology), Jack Mostow (School of Computer Science), and Erik Thiessen (Psychology) for mentoring these young investigators.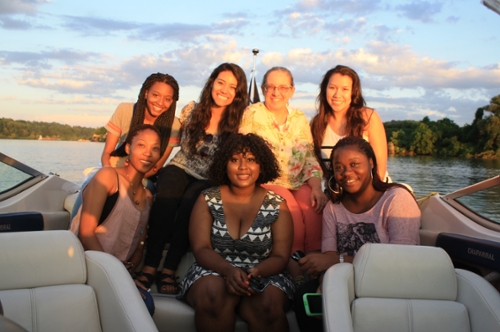 Photo Caption: June Sunset on the Ohio River after touring Pittsburgh via motor boat.  [L to R Back Row: Roslyn Mays, Emily Chavez, Professor Sharon Carver (Psychology), and Nicole Landa, L to R Front Row: Kgomotso Lenah Madisa, Camille Warner, and Ashli-Ann Douglas]
Final presentation session attended by professors David Rakison, Anna Fisher, Erik Thiessen, Vicki Helgeson, Kasey Creswell, and Jack Mostow (not pictured).