NEWS & Events
Graduate Student Ting Liu successfully defended her PhD thesis on Apr.29th, 2016. Thesis title: "Biophysics of encapsidated DNA states in viruses and their role for infectivity".


Aug 20, 2015, graduate student Ting Liu selected to the inaugural class of CMU Presidential Fellows as a recipient of Bruce McWilliams Presidential Fellowship in the Mellon College of Science 2015-16.


July 20, 2015, Carnegie Mellon University Press Release "Scientists identify achilles' heel of virus's tough outer shell."


Graduate Student Dave Bauer successfully defended his phD thesis on Apr.13th, 2015. Thesis title: "Influence of internal genome pressure on viral particle infectivity and stability".


"Graduate Student Krista Freeman is selected to attend the 65th Lindau Nobel Laureate Meeting in Lindau, Germany." Only the 55 most qualified young scientists from the United States are given the opportunity to enrich and share the unique atmosphere of the Lindau Nobel Laureate Meetings.The meeting is held from 28 June to 3 July 2015.


"Rapid transitions in viral DNA story, highlighted in PNAS In this issue front page" PNAS, October 14, 2014


"Body temperature linked to DNA activity inside disease-causing virus" Pittsburgh Post-Gazette, November 11, 2014


September 30, 2014, Carnegie Mellon University Press Release "Viral Infection Might Just Be a Phase Transition"


Graduate Student Dave Bauer was awarded an NIH fellowship from MBSB graduate program based on his successful grant application.


Listen to the popular science podcast "The Skeptics' Guide to the Universe" in the final segment, "Science or Fiction" starting around 63 min our discovery of Herpes pressure is being discussed.


July 24, 2013, Media Press Release "First Experimental Evidence of Internal Pressure Inside Herpes Virus".


Graduate Student Krista Freeman was awarded a 2013 NSF Graduate Research Fellowship Program (GRFP) Fellowship.


Graduate Student Dave Bauer is awarded an Outstanding Presentation Prize at the Grad Expo 2013 at the University of Pittsburgh (March 21, 2013).
Professor Evilevitch has been awarded an NSF grant (June 2012).


Graduate Student Udom Sae-Ueng receives Astrid and Bruce McWilliams Fellowship for impressive research accomplishments in Physical Virology (February 2012).


"Physicist Makes Pivotal Discovery", Carnegie Mellon Front Page, July 17th, 2010.


"Researcher says physics may outsmart viruses" Pittsburgh Post-Gazette Wednesday, February 17th, 2010


"Carnegie Mellon Physicist the First To Measure Energy Released From a Virus During Infection" Carnegie Mellon University press release, February 5th, 2010


"Energy of Attacking Virus Revealed" Science Daily,
January 2010


"High-powered living DNA cannon" Nano Tsunami - Nano Medicine in depth, 2005


"DNA Goes Ballistic" Science,
July 2003


"Some viruses faster than a speeding bullet" ABC News,
July 2003


Virology Club
Events
The 10th virology club meeting will be held on Tuesday, November 23th at 10:00AM in the Mellon Institute at in the old Lane Center conference room, MI 409. Dr.Katerina Toropova from James Conway's group, will be presenting her latest research on Cryo-Electron Microscopy reconstruction studies of Herpes viruses.
Previous Club Meeting
The 1st meeting: August 26th, 2009
Professor Evilevitch gave a talk on "Osmotic pressure: resisting or promoting DNA ejection from phage? Internal capsid-pressure dependence of viral infection".
The 2nd meeting: September 17th, 2009
Professor James Conway from Pitt was presenting his research on structural virology with high resolution Cryo EM.
The 3rd meeting: October 23rd, 2009
Professor Michael Widom gave a talk on his research on viral capsid stability.
The 4th meeting: December 4th, 2009
Professor Russell Schwartz gave a talk on his work.
The 5th meeting: January 22nd, 2010
Professor Evilevitch gave a talk on his accepted paper on calorimetric measurements of DNA release from phage.
The 6th meeting: March 2nd, 2010
Professor Stephanie Tristram-Nagle presented her research on HIV fusion.
The 7th meeting: April 6th, 2010
Professor Takis Benos presented his research on RNA folding in swine flu, avian flu and other viruses.
The 8th meeting: May 3rd, 2010
Professor Roger Hendrix presented his research on "Phage evolution: why aren't they perfect yet?".
The 9th meeting: October 14th, 2010
Professor Fred Homa gave a talk on his research on Herpes Viruses.
About CMU & Pitt Virology Club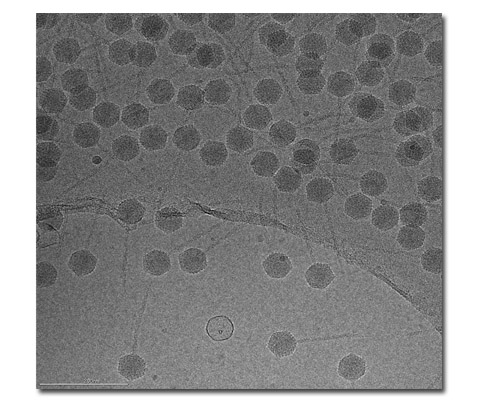 We have monthly meetings with faculty and students from CMU and University of Pittsburgh. Among participants are the groups of: