This Forum consists of five presentation sessions (opening session, sustainable water reuse & desalination, greenhouse gas capture & conversion, sustainable natural resources, and poster session) and discussions spanning two days.

The first day will have keynote speeches followed by the oral presentations by the U.S.and Korean participants, while the second day consists of a keynote speech and poster presentations as well as panel discussions. Dr. Mihail Roco (NSF), Prof. Young Moo Lee (Hanyang Univ.), and Prof. Harry Atwater (Caltech) will deliver the keynote speeches.

Each oral presenter will give a 15 minute talk focusing on their research, contributions, and findings on nanotechnology convergence to the environmental area. The early-career participants will also deliver a 3 minute oral presentation summarizing their poster. The second day will focus on facilitating in-depth discussion among the participants for a close examination of sustainability primarily focusing on nanotechnology and sustainability as well as the roadmaps for collaboration and plans for exchanging personnel. The sub-group¡¯s recommendations will be used as the basis for the Forum summary and the action items during the conclusion session.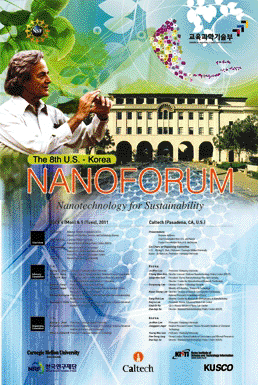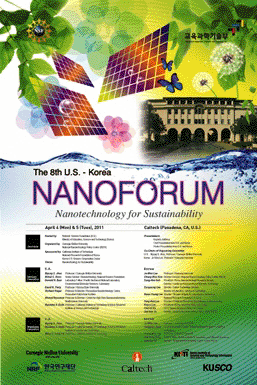 Program Outline


Date

Program

Location

April 4

Opening Session, Keynote and Oral Presentations

Beckman Institute Auditorium (BI 134), 153 Noyes

KUSCO Banquet

April 5

Keynote and Poster Presentation

Beckman Institute Auditorium (BI 134)

Group-discussion Workshop

Beckman Institute
Room 115 & 121

To Draw-up Recommendations
Meeting Location

Beckman Institute auditorium, California Institute of Technology (Map)
1200 East California Boulevard, Pasadena, CA 91125
Tel: 1-626-359-6811
Accommodation
The Westin Pasadena (Map)
191 North Los Robles Pasadena, CA 91101
Tel: 1-626-792-2727