The forum will be of two days: the first day, April 17th, will consist of oral/poster presentations. The presentation topics will include the emerging area of Nano-biotechnology focusing on novel nano-biomaterials, instrumentation technologies, and the environment, health & safety (EHS) issues. These topics will be discussed by the speakers from both countries (presentation format will be similar to the previous Forums). In addition, there will be poster presentations by early career researchers from each country. The second day, April 18th, will have a keynote speech and panel discussions which include the close examinations of nano-biotechnology research, educational program development within both countries, mechanisms for cooperation, and plans for exchanging personnel as well as other relevant topics. The recommendations based on the Forum outcome will be made at the conclusion of the Forum..
Meeting Place

Jeju Shilla Hotel
3039-3, Saekdal-dong, Seogwipo-si, Jeju-do, 697-130 Korea
Tel: 82-64-735-5114
Location Information (from hotel website)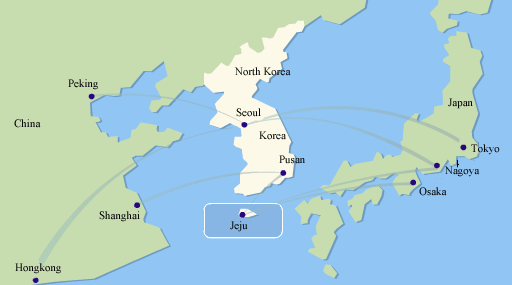 Jeju-do is the biggest island in Korea, Situated in the southwest of the Korean peninsula and in the north of the Southern Sea. It embraces 62 isles and has a total area of 1,825 sq. km. It is situated at 126 degrees and 08 minutes ~ 126 degrees and 58 minutes longitude east and 36 degrees 06 minutes ~ 33 degrees 00 minutes latitude north. Jeju-Island is 452 km away from Seoul and 301km from Busan. The island is located within a 989-km distance from Osaka, Japan, 499 km from Shanghai, China, and a 1,030km-distance from Hong Kong.
The Shilla Jeju is situated on a hill near the seaside golf course, the Jungmun Golf Club which covers the central part of the Jungmun Tourist Complex. The hotel is about a 50-minute ride from Jeju International Airport by limousine bus or taxi.