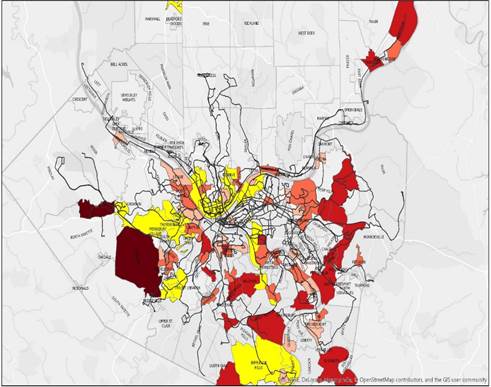 Future of Work: Can Ridehailing Help the Disadvantaged get Work?
In many cities and towns throughout the United States, citizens with lower levels of education and skill confront challenges when seeking employment. The jobs best suited for their skills may be located in a different part of the metro area from their homes, and the existing public transportation system may not provide them with a practical way of interviewing for these jobs or commuting to them on a long-term basis.  
The rapid rise of ridehailing services, like Uber and Lyft, may provide a new opportunity to address these longstanding needs in a more cost-effective way. The public and private sectors may be able to share the costs of making the excess capacity in ridehailing systems available to disadvantaged citizens whose needs are not being served by the existing public transportation system. Such a creative partnership could connect our least advantaged citizens to new opportunities while also connecting our employers and businesses to human resources in an increasingly tight labor market.
To examine the effectiveness of this resource at expanding the mobility of citizens with special transportation needs, we plan to combine a large-scale field experiment with sophisticated data analysis to evaluate the impact of ridehailing on individual mobility, employment outcomes, access to training and social services, and other measures of social well-being.
Project Update (April 2020)
The broader research project seeks to examine the potential efficacy of ridehailing in helping low-income mothers (especially single mothers) contend with the longstanding problem of spatial mismatch in American cities. For decades, social scientists have known that transportation issues often prevent poor city residents from obtaining access to employment opportunities, and these frictions often impact single mothers with disproportionate intensity. 
The team will conduct a randomized controlled trial in which 650 low income mothers resident in Allegheny County will be recruited and randomly assigned to a treatment group or control group. The mothers in the treatment group will get monthly access to $200 worth of free rides for 6 months. These mothers (and the ones in the control group) will be asked to download and use our study app, which helps them search for jobs and connect to other social services, but also tracks their location, so that we can see in a very granular way how access to additional mobility resources changes the movement of these mothers across the region.
The team will use surveys and the data resources of the Allegheny County Department of Human Services to measure the impact of this additional mobility on employment, income, and other socioeconomic outcomes. By providing information on participant mobility, a user-friendly platform for the dissemination of surveys, and assistance to our participants in finding more or better work, the study app plays as critical a role in our study as the free rides themselves. 
The study app also connects to multiple resources on the web that help participants with their job searches, sending and receiving of surveys, and the archiving of participant data.  
FACULTY:
Lee Branstetter
Beibei Lei
Lowell Taylor
STUDENTS:
Zhe Zhang, PhD. Candidate
Sagar Baviskar, MISM