August 26, 2011
Dowd Fellowship Award for Hess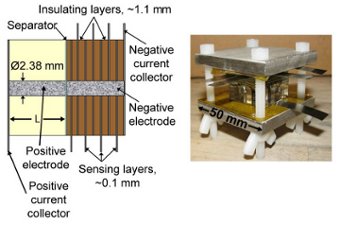 TPES researcher Kacy Hess was awarded a Dowd Fellowship for the 2011-2012 school year. This fellowship will fund her work studying in-situ, through-plane distribution measurements in aqueous hybrid batteries for grid-scale energy storage.
Kacy was one of four Carnegie Mellon University students chosen to receive this award. The Philip and Marsha Dowd Engineering Seed Fund supports one year of research for students working on cutting edge research in their field. This fellowship will be supporting Kacy's work on making in-situ, through-plane distribution measurements to advance aqueous hybrid batteries for grid-scale storage.
Hybrid batteries, with a negative electrode made from electric double layer capacitor materials and battery materials for the positive electrode, are an important asset for increasing grid-scale storage. They will many applications including aiding in the incorporation of off-grid renewables and long duration ancillary services, and improving peak shaving and load shifting techniques. Additionally, these aqueous hybrid batteries can be made with low cost and benign materials. However, they still face many hurdles before they are ready for widespread commercialization.
This work aims to elucidate the transport processes occurring within the cell during charging and discharging. Kacy believes that this work will lead to a better understanding of these processes and will reveal methods for improvement.