June 12, 2012
Published: In situ Measurements across EDL Capacitance Anode for Aqueous Sodium Hybrid Batteries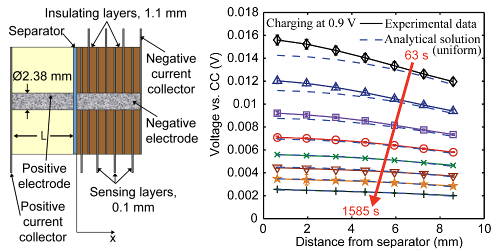 In July 2012, the Journal of the Electrochemical Society published a work by TPES lab members Kacy Hess and Prof. Shawn Litster, along with Prof. Jay Whitacre, regarding their electrode scaffold (ES) through-plane electrode diagnostics. The paper, titled  "In situ Measurements of Potential, Current and Charging Current Across an EDL Capacitance Anode for an Aqueous Sodium Hybrid Battery," describes a method for gathering electric potential distribution measurements across the thickness of an electric double-layer capacitance electrode. It also presents the finite difference methods developed to extract local current and local charging current distributions.
Through-thickness transport issues limit the practical thickness of electrodes. This work aims to better understand these issues, as thicker electrodes would reduce the amount of non-functional materials needed (e.g. separators) and hence lessen battery costs. To that end, this paper presents a novel technique to characterize electrodes by measuring through-plane potential, current and charging current distributions.
The Journal of the Electrochemical Society published this article in volume 159, issue 8, pages A1351-9. It is available online with DOI 10.1149/2.028208jes, or in our publications section.