Biotechnology and Health

MCS researchers are leaders in the field of neuroscience, devising new methods to better understand the mechanisms behind memory and learning, and diseases like Alzheimer's and epilepsy. Our scientists are members of multidisciplinary research centers, including Carnegie Mellon's BrainHub initiative and Carnegie Mellon and the University of Pittsburgh's Center for the Basis of Neural Cognition. Learn more about neuroscience research at MCS.
---

MCS researchers are pioneers in the field of nucleic acid research, synthesizing nucleic acids that have applications that far exceed their intended biological functions. Researchers are developing peptide nucleic acids that can be used in electronics, pharmaceuticals, biosensors and imaging applications. Learn more at the Center for Nucleic Acids Science and Technology.
Read more in the article "It's in our DNA" in Science Connection.
---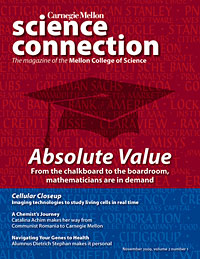 MCS scientists are at the forefront of imaging research, developing novel technologies that allow researchers to peer deep inside cells and organisms and gain insight into critical biological processes. Learn more at the Molecular Biosensor and Imaging Center.
Read more in the article "Cellular Closeup" in Science Connection.
---

Cell membranes do much more than contain the inner components of a cell -- they play crucial roles in cell signaling, ion trafficking and immune response regulation. MCS researchers are working to better understand cell membranes, developing models that will help to elucidate the role membranes play in diseases like HIV and Alzheimer's. Learn more at MCS's Biological Physics Initiative. 
Read more in the article "Cell Membranes from the Outside In" in MCS News.