June 01, 2017
Worlds of Science and Art Unite at Invisible Jazz Labs
By Emily Payne epayne(through)andrew.cmu.edu
Gathered around chalkboard walls, sitting in the comfort of mismatched couches and chairs, the second installment of the Invisible Jazz Labs opened with a small proviso from Pearlann Porter, co-architect of the evening: "This is not a performance. It's a lab. A lab in search of an idea, in search of discovery — to see what happens when unknowing is in front of us. We are taking science and art, putting it in a Petri dish and seeing what happens."
The Invisible Jazz Labs series fuses poetry, chalk art, music, dance and science in an improvisational tango, co-directed by Ellipses Condition co-founders Pearlann Porter and John Lambert. Held in the Space Upstairs, a warehouse gallery loft above Construction Junction in Pittsburgh, the labs work to weave together the commonalities of science and art to show the shared beauty in each.
The idea of fusing science and performance art began as the brainchild of Porter, a choreographer by trade with a fascination for the sciences. Porter reached out to George Klein, associate teaching professor of physics at Carnegie Mellon University, who she had previously worked with on a project combining dance with a presentation on Maxwell Equations, to expand her collaboration with the Mellon College of Science's Department of Physics. Klein introduced Porter to Manfred Paulini, professor of physics and head of the graduate program, who connected several graduate students to the project as well.
The result of this collaboration is the Invisible Jazz Labs, which officially debuted this year as a four-part series. On March 24, the first lab opened with Paulini and Department of Physics Ph.D. candidate Matthew Daniels at the helm.
The key to the labs is the atmosphere of experimentation — an instrumental component inherent in both science and art. "We developed a theme of what to talk about and then let the performers elaborate and improvise their art around the scientist'spresentation," said Paulini.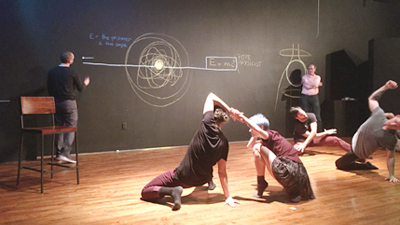 Paulini spoke about searching for dark matter with CERN's Large Hadron Collider in Switzerland, where he does research as part of the CMS experiment. Weaving in stories of the beginnings of the universe,which Paulini likened to a "steaming hot dance floor," he explored how dark matter would be produced in the early universe from a biblical viewpoint, a scientific viewpoint focusing on the Big Bang theory and his personal viewpoint as a particle physicist.
As he spoke, artist and Carnegie Mellon graphic designer Jordan Bush filled the chalkboard with colorful drawings of atoms and particles. Percussionist PJ Roduta hit the drums, which rung out as Paulini touched on the Big Bang theory.
Next up, Daniels spoke about magnetism as dancers floated around the stage mimicking his explanation of electrons and particles with their movements. The artists' interpretations of concepts such as magnetic ribbons and spin waves helped the audience better grasp the complexity of the topic.
On April 28, the second Invisible Jazz Labs featured Klein and biological sciences graduate student Ardon Shorr.
Klein's talk centered on waves and how waves communicate information through vibrations in a medium. To illustrate his point, Bush drew wavy lines across the board, the musicians let their notes softly ring out like rippling water, dancers sent pulsing movements back and forth through each other and the words "We are waves essentially engaged" sprawled across the wall, each aspect creating waves in its own way.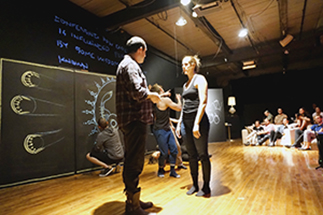 Shorr, who is pursuing his Ph.D. in biology, spoke about how astronauts returning from space can experience health problems caused in part by their suspension in microgravity. To study these diseases, Shorr builds devices to apply altered gravity and compression to developing zebrafish and fruit flies. This allows him to analyze changes in cell communication in an attempt to understand how similar mechanical forces would affect humans. Throughout his talk, dancers simulated a fish suspended in microgravity while Bush drew an interpretation of Shorr's experiment on the wall.
As the Invisible Jazz Labs evolve, Paulini is excited to continue building interdisciplinary bridges that will bring those interested in art closer to science and those interested in science closer to performance art.
Klein, who first answered Porter's call to merge science and art years ago, agrees.
"We are all trying to explain the world around us. In some ways, we are all searching for the same thing. The truth. The truth of the artists might be different than the truth of scientists, but we are all trying to understand what's happening, understand humans and nature, understand how things work. We are not that different," said Klein. "Scientists want to understand the laws of nature, and artists work more on understanding emotions, but, in the end, they both want to communicate the way they see the world around them."
This summer, the Invisible Jazz Labs will host a web series experimenting with art in the labs at Carnegie Mellon before returning to the Space Upstairs in the fall for the final two installments on September 22 and October 22.