May 12, 2017
Soon-To-Be #cmugrad Susheel Khetarpal Tells His Story Through Social Media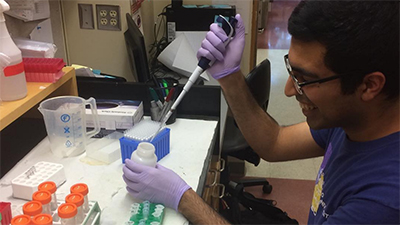 Carnegie Mellon University launched a social media ambassador project to provide a window into graduating students' experiences in each of CMU's seven colleges. For five weeks, students, including biological sciences senior Susheel Khetarpal, shared photos from their work with student organizations, research, classwork and leisure time.
Khetarpal will start medical school in August at the University of Pittsburgh School of Medicine.
Since the summer following his first year at CMU, Khetarpal has been working on lung cancer research at the Hillman Cancer Center at UPMC Shadyside Hospital. He also has been involved in collaborative learning at CMU, as well as Bhangra, an Indian dance traditionally done while celebrating the harvest.
Khetarpal said CMU's community can be very collaborative.
"I've noticed how very open people are and how friendly people are to share their ideas and their strengths and learn from others," Khetarpal said. "Everyone's really accepting and super engaging with each other, which is something I've seen in all of my clubs and activities."