May 05, 2017
Senior Katherine Borst Receives Carnegie Mellon Women's Association Scholarship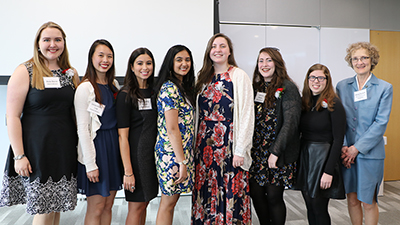 Mathematical Sciences major Katherine Borst was one of seven women graduating this month to receive an early gift from the Carnegie Mellon Women's Association (CMWA). Each student was presented with a $1,000 scholarship for their commitment to the advancement of women in their academic disciplines.
CMWA President Christa Cardone, a 2016 graduate of the Heinz College of Information Systems and Public Policy, said the scholarship winners are a testament to the richness of the CMU experience.
"This year's award recipients represent excellence both in and out of the classroom. From supporting the advancement of women at CMU through programming and activities to interacting with their communities and encouraging leadership and education to young girls, this year's recipients are a testament to the creative, supportive and curiosity-driven learning experience provided by CMU," said Cardone, communications manager for the Finance Division.
Borst is a strong advocate for women in science and math, she empowers others to reach their fullest potential, and she is passionate about Carnegie Mellon and the Mellon College of Science.
She is involved in many activities on campus and off campus that support and encourage other women, as well as in activities that show her love of math. Recently she planned an event with her sorority, Alpha Chi Omega, called the Healthy Relationships Week Showcase. It was an opportunity for students from across the CMU community to share their artistic talents and continue a dialogue about healthy relationships. Through ticket sales and donations, they raised over $400 for the Women's Center and Shelter of Greater Pittsburgh.
Borst serves as Alpha Chi Omega's Vice President of Intellectual Development, running professional development workshops and events, such as Women in Academia and Apple Pie with Alpha Chi, which allows sisters to network with supportive and inspiring faculty and staff in the CMU community. She met weekly, one-on-one with sisters who were struggling academically and with their mental health. She learned how to respond to very serious situations and supported her sisters while they sought the help.
She volunteers weekly with CMU TechNights, a program for middle school girls in the Pittsburgh area to learn about computer science and STEM. Borst is enthusiastic about engaging girls in a subject that she loves. This semester, Borst worked part time as an in-class tutor at Pittsburgh Science and Technology Academy. She is working in an 11th-grade Elementary Functions class and has worked one-on-one with students who have low self-esteem when it comes to math. Borst says, "it is very hard to learn something when you've dismissed yourself as not good at it."
In the Math department, Borst has generously offered her time to speak at orientations or as a Booth committee administrative coordinator. Borst was a Teaching Assistant in the fall semester. The instructor, Dr. Dana Mihai, says that she went above and beyond to make sure she did a great job and she supported her students. Borst participated in the Summer Undergraduate Applied Mathematics Institute (SUAMI) program. In addition to contributing to a research project as part of a team, Borst helped the students who came from out of state for this program make a smooth transition, offering to be the local guide and helping them integrate easily in the program. Borst is also the President of the Math Club, and in this capacity, she organizes the lectures and is always involved in making sure that there is good attendance to these meetings.
Borst is planning a career in education policy and is planning to pursue more experience in K-12 classrooms soon and to work in federal government to shape educational policies in the longer term. 
The CMWA has been awarding scholarships to graduating students every year since 1964. The scholarships are funded by CMWA membership dues. CMWA membership is open to all women associated with the university.
Mary Suresh is the CMWA honorary president. Board members are President Christa Cardone, Vice President of Programs Colleen Libertz, Co-Vice President of Programs and Marketing Jessica Corry, Vice President of Membership Lisa Georgi, Treasurer Rita Ciccariello and Past President Alexa Hansen.
###
Excerpted from the CMWA website and Piper Weekly. 
Media contact: Jocelyn Duffy, jhduffy@andrew.cmu.edu, 412-268-9982