April 14, 2017
Biological Sciences Student Chrystal Thomas Named Commencement Student Speaker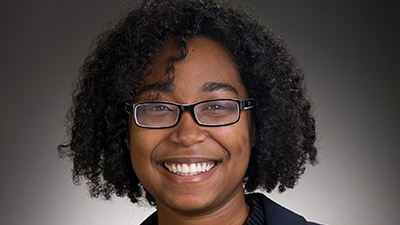 Chrystal Thomas will be the student speaker at Carnegie Mellon University's 120th Commencement at 11 a.m. Sunday, May 21, in Gesling Stadium on the Pittsburgh campus. 
Thomas, who is receiving her bachelor's degree in biological sciences, has distinguished herself both in and out of the classroom.
Academically, Thomas has earned numerous awards and honors. In December, she became the first student from Carnegie Mellon to be named a Schwarzman Scholar and will receive funding to complete a master's degree in global affairs with a concentration in public policy at Tsinghua University in Beijing. The Schwarzman Scholarship program focuses on preparing exceptional students to confront future challenges and providing them with the opportunity to develop an understanding of China.
She received a Gates Millennium Scholarship from the Bill & Melinda Gates Foundation and was named an Andrew Carnegie Society Scholar as one of the top 40 students in this year's graduating class for her academic excellence and leadership.
In addition to her studies at CMU, Thomas has interned at the National Institute of Arthritis and Musculoskeletal and Skin Disease, the Broad Institute of MIT and Harvard, the University of Pennsylvania and Stony Brook University.
Thomas is an active member of the CMU community, especially in activities focused on fostering diversity at the university. She is founder and president of Colors@CMU, a student organization that promotes open and honest conversations on race and diversity. She was an inaugural member of the Diversity and Inclusion Roundtable, which provides counsel to senior university leaders on diversity initiatives. She is a lead mentor in the Coaching Minority Progress and Success in Science (COMPASS) program, and has served on the executive board for the Minority Association of Pre-Health Students.
After completing her master's degree at Tsinghua University, she plans to attend medical school to pursue degrees in medicine and public health.
###
Media Contact: Jocelyn Duffy, jhduffy@andrew.cmu.edu, 412-268-9982