March 23, 2017
Carnegie Mellon Makes Strong Showing at Global CodeCon Finals
Mathematical Sciences and Computer Science Student Raymond Kang Earned 9th Place in the Coding Competition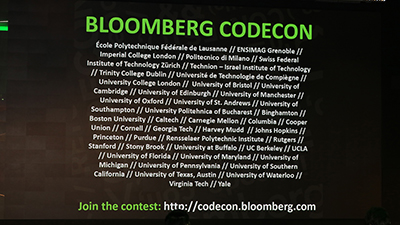 Two Carnegie Mellon University students outcoded more than a hundred of their peers at the 2017 Global CodeCon Finals — a two-hour long coding competition at Bloomberg's offices in New York City and London. Raymond Kang, a junior studying computer science and mathematical sciences, earned ninth place; and Gabriele Farina, a Ph.D. student in computer science, came in 13th. Kang took first place in last year's competition.
The Bloomberg CodeCon platform, launched in 2015, provides students with an opportunity to improve their coding abilities. According to Bloomberg developer Rangan Prabhakaran, the competition makes learning more exciting by providing immediate scoring feedback to students. Throughout the year, competitions are held at leading universities, and winners are invited to face off in a final round of questions created by Bloomberg software engineers.
Competitors deal with a diverse range of challenges released only once the competition begins. This year's problems ranged from arranging antique statues by height in as few moves as possible to writing a program to win Pokémon GoTM. Other challenges presented to the 140 finalists included a Rio Olympics-inspired "Olympic Arrangements" challenge, where coders had to calculate the total number of event-venue combinations; and "Firefighter Tim," a search-and-rescue mission that required competitors to write algorithms, test optimizations and create different data structures to save as many people as possible.
"The logic is complicated, but the inputs and outputs are easy to understand. Basically, it's about survival of the fittest," said Luis Alejandro, a Bloomberg software developer who came up with the "Pokémaster" challenge.
Read more about the competition on Tech at Bloomberg.
###
By: Aisha Rand
Media Contact: Jocelyn Duffy, jhduffy@andrew.cmu.edu, 412-268-9982