March 21, 2017
Quant Club Draws Large Crowd at First-Ever Quantathon
The recently formed Quant Club finds success in bringing together students from a wide variety of majors to share their interest in computational finance and financial mathematics.
By Emily Payne epayne(through)andrew.cmu.edu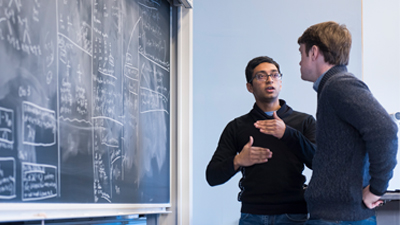 On Saturday, Feb. 4, the Carnegie Mellon Quant Club held the first-ever Quantathon. Inspired by hackathons, a popular event in the field of computer science, the Quantathon drew a full house of students eager to join the open-ended problem solving competition.
Initiated by a group of undergraduate students in the Department of Mathematical Sciences computational finance program, the Quant Club brings together students interested in quantitative finance and financial mathematics. Their goal is to prepare students for their future careers and foster relevant undergraduate research. This has attracted students from a wide range of majors, including mathematics, business, computer science, engineering and statistics, to join the club.
Since its formation, the Quant Club has held a number of successful events, including quant talks, informational sessions about the computational finance degree program and networking events with people from the finance industry and with Carnegie Mellon alumni. Students have also led research projects with other students and faculty members.
One of the club's founders Sijie Wei, a computational finance, statistics and machine learning major, has spearheaded the club's technological initiatives, including building their website and hosting YouTube webinars on quantitative finance concepts. He also initiated the idea of the Quantathon and proceeded to organize the event with Jillian Wang, an applied mathematics major, and other Quant Club members.
"We love working around great minds to solve great problems. The essential purpose for holding the Quantathon was to draw students' interest to the field of quantitative finance and celebrate students' passion in different quantitative areas. This competition was a great opportunity for students to apply their quantitative skills such as mathematics, probability, statistical analysis and so on in the field of finance. Knowledge in finance was not required, and students with all backgrounds were welcome to participate," said Wei.
Steve Shreve, faculty advisor to the Quant Club and Orion Hoch Professor of Mathematical 
Sciences, created a problem that challenged participants to develop a betting strategy to reach a goal. Shreve and his colleagues, Professor of Mathematics William Hrusa and Associate Professor of Mathematics Po-Shen Loh, served as judges for the competition. Teams of students received the problem at 9 a.m. and submitted summaries of their progress at 2 p.m. Based on these summaries, the judges chose six teams to present their final results beginning at 5 p.m. At the end of the competition, the judges selected the first, second and third place winners based on their presentations and answer to the problem—with the first-place team finding the optimal betting strategy.
The first-place team was comprised of three Carnegie Mellon sophomores: Raymond Hogenson, a mathematics major, Patrick Lin, a computer science and mathematics major, and David Zeng, a computer science major.
"The most amazing thing was the number of people who showed up on a Saturday morning. There were 38 teams of three to four students. The Quant Club plastered campus with posters, made announcements in relevant classes and announced it through their extensive mailing list. It was great to see their hard work pay off," said Shreve.
Overall, 150 students participated in the event, and most attendees stayed from the beginning of the day until the end to hear the presentations of the top six teams, which Shreve believes is a testament to the club and its mission.
"I cannot say enough good things about this group of students. They are really exciting to work with," said Shreve. "These students are very collaborative, they support each other. They are doing well in terms of internships and job placements in part because of the support they are giving each other."
Current Quant Club President Cissy Shi, a computational finance major, is excited to continue growing the club's presence after the success of the Quantathon.
"I think that it was such a success because we rarely have events like this for people who love math and finance. We definitely expect to host more events like this," she said.
In addition to deciding when to hold the next Quantathon, the group is looking into organizing a sophomore internship preparation event on campus to complement the annual September trip to New York. Organized by faculty advisors for the computational finance and business administration programs, the trip offers students the chance to visit investment banks and undergo mock interviews with alumni.