December 14, 2016
Physics Graduate Student Wins PQI Poster Award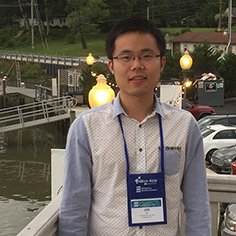 Physics graduate student Jun Li received a Pittsburgh Quantum Institute (PQI) Award in recognition of his outstanding poster presentation at PQI's poster session at the University of Pittsburgh's Science2016 event. The award includes an Amazon Echo Dot and up to $1,000 of travel support to attend a conference.
Li, a student in Physics Professor Randall Feenstra's research group, took the honors for his poster "Characteristics of Interlayer TFETs computed by a 'DFT-Bardeen' Method."
TFETs, or tunneling field-effect transistors, are very attractive devices for use in low-power electronics applications. The goal of Li's work is to provide reliable estimates for the magnitude of the tunneling current in Thin-TFETs, which will be benchmarked against values appropriate for low-power digital applications.