December 14, 2016
MSCF Earns No. 1 Ranking for Fourth Consecutive Year
Carnegie Mellon's Master of Science in Computational Finance (MSCF) program shares the top spot for best financial engineering program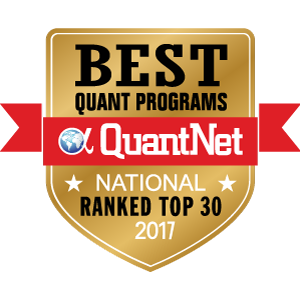 For the fourth time, the Master of Science in Computational Finance (MSCF) program at Carnegie Mellon University was awarded the top position in the 2017 QuantNet rankings of financial engineering programs.
Recognized as the most comprehensive ranking of master's programs in Financial Engineering (MFE) and Mathematical Finance in North America, QuantNet's methodology includes a survey of hiring managers, corporate recruiters and professionals from financial institutions.
"We work hard to attract highly motivated students who can meet the demands of the increasingly quantitative financial markets," said Rick Bryant, executive director of the MSCF program. "We recognized this need more than 20 years ago when we first started the program and continue to enhance our coursework and curriculum to meet the needs of the ever-changing industry." 
This year, survey results from 28 master's programs in North America were used to calculate the rankings based on a weighted average of peer assessment, placement success and student selectivity.
The QuantNet rankings are highly respected in the field of computational finance. Many students considering careers in financial engineering or advanced degrees in quantitative finance reference the rankings, which attract more than 900,000 views each year.
"The MSCF program's top ranking, scholarship opportunities and location on Wall Street made it the ideal option," said Whitney Ko, MSCF '17.
MSCF shares the No.1 spot for the top overall financial engineering program with Baruch College at the City University of New York and the University of California, Berkeley.
MSCF is a joint program between the Tepper School of Business, the Mellon College of Science Mathematical Sciences Department, the Dietrich College of Humanities and Social Sciences Department of Statistics and the Heinz College. Learn more about the MSCF program at Carnegie Mellon.