November 03, 2016
Students Volunteer at Frontiers Conference Astronomy Night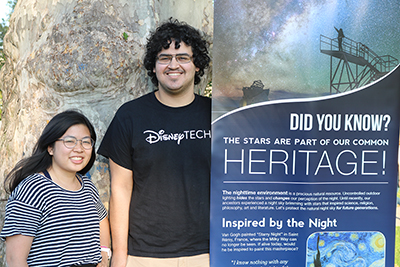 After President Barack Obama left Carnegie Mellon's Pittsburgh campus following the White House Frontiers Conference on Oct. 13 many of the day's events had drawn to a close. But, for members of the Carnegie Mellon Astronomy Club and other Carnegie Mellon students, the festivities had only just begun. That night they helped with the conference's Astronomy Night, held at the Allegheny Observatory. 
At Astronomy Night, close to 100 volunteers from Carnegie Mellon, the University of Pittsburgh, the Amateur Astronomical Association of Pittsburgh and the Carnegie Science Center talked to Frontiers Conference participants and the general public, handed out International Dark Sky Association materials, and operated telescopes pointing at the moon and other astronomical objects. Physics majors Michael Perez and Joanne Hsueh, the president and vice president of the Carnegie Mellon Astronomy Club, and students from Pitt's Space Exploration and Astronomy Club talked to tour groups about the problems of light pollution as part of an educational outreach program supported by a grant from the Sprout Fund. Astronaut Serena Maria Auñón-Chancellor greeted attendees, and more than 30 professional astronomers were on hand to talk to the crowd. 
Astronomy Night was organized by Carnegie Mellon Physics Department faculty member Diane Turnshek and members of the Pitt Department of Astronomy and Physics, including David Turnshek, Sandhya Rao and Arthur Kosowsky, in partnership with Meredith Drosback, assistant director for education and physical sciences at the White House Office of Science and Technology Policy. Mellon College of Science Senior Academic Advisor Veronica Peet helped to coordinate the undergraduate student volunteers, and John Radzilowicz from Pitt's Center for Teaching and Learning organized the lawn telescopes. 
Contact: Jocelyn Duffy, jhduffy@andrew.cmu.edu, 412-268-9982