October 10, 2016
Rebecca Doerge Installed as 7th Dean of Mellon College of Science
By Jocelyn Duffy jhduffy(through)andrew.cmu.edu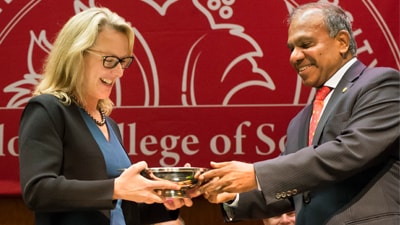 A new tradition began as hundreds of supporters gathered in the Mellon Institute Auditorium for a celebration of research and education as Rebecca Doerge was formally installed as dean of the Mellon College of Science.
Doerge is the seventh dean since the college was founded 49 years ago when the Mellon Institute of Industrial Research merged with the Carnegie Institute of Technology to create Carnegie Mellon University.
The ceremony, held on Oct. 6, commemorated the start of Doerge's deanship and celebrated the Mellon College of Science, and was the first to be held for a CMU dean. Going forward, each dean will be feted similarly.
At the ceremony, faculty and staff heard from President Subra Suresh, Provost Farnam Jahanian and Neil Donahue, Lord Professor of Chemistry and co-chair of the MCS Dean Search Committee. The speakers explored why science is important to CMU and the world, and why they believe Doerge is the right choice to lead MCS.
Suresh said Carnegie Mellon's strength in the basics sciences, including biological sciences, chemistry, mathematical sciences and physics, is bolstered by the university's interdisciplinary nature that allows researchers to look at science through the lens of other disciplines. This unique perspective will lead the university to create technology, tools and methods that will benefit humankind.
"We have a lot to look forward to, we have a lot to work hard for and we have a new leader in the Mellon College of Science to take us in that direction … to elevate MCS to a new level," Suresh said.
After their remarks, Suresh and Jahanian formally installed the new dean and presented her with a quaich (pronounced quake). In keeping with Carnegie Mellon's Scottish traditions, the quaich is a ceremonial drinking cup offered in friendship or welcome. Its two-handed design symbolizes new ventures and mutual trust between the giver and receiver.
"Celebrations like this one allow us to pause for a moment and remember what makes Carnegie Mellon distinctive — our deep tradition of excellence in research, education and scholarship and the incredibly gifted people who act as stewards of our progress," Jahanian said.
Doerge told the audience that she chose Carnegie Mellon because the university is forward thinking and has talented faculty who take an interdisciplinary approach to solving real-world problems. She also was attracted by the college's innovative Core Education program that focuses on educating the whole student and prepares them for their futures as 21st century scientists.
"Carnegie Mellon is known as being focused, nimble and forward-thinking. We see and plan for the future before others do. We might call it basic science, hard science, but I call it foundational science. The Mellon College of Science provides the foundation on which discovery is built upon," Doerge said. "Scientists at the Mellon College of Science are improving the world we live in with discoveries that impact energy use, the environment, security, the economy and health care, and more."
She concluded by saying she hopes to make science at Carnegie Mellon rise to new heights, building on its already strong research and educational programs and taking advantages of collaborations with the other colleges at the university.
"Elevating science at Carnegie Mellon to new heights is a mission that will involve all of the colleges. When we work together with our colleagues, we are even stronger.
"It is an honor to lead the Mellon College of Science into the next 50 years of history," she said.
Doerge's deanship officially began Aug. 1. A former professor at Purdue University, she assumed the positon from Buhl Professor of Theoretical Physics Fred Gilman, who returned to the physics faculty.