April 28, 2016
MCS Staff Recognized at Annual Staff Awards Ceremony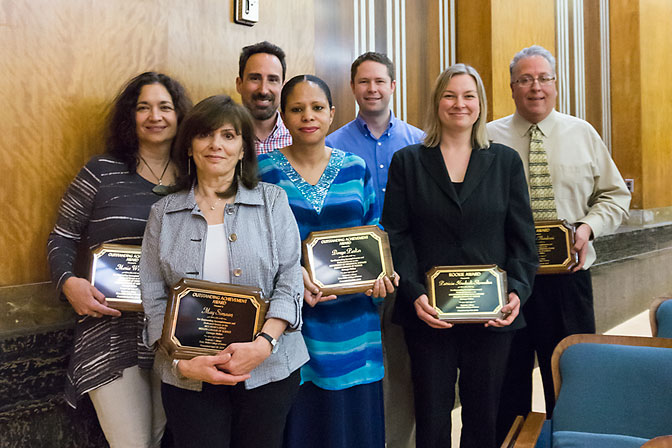 ---
On April 28, faculty, staff and administrators gathered in the Mellon Institute to honor MCS staff members for their dedication and service to the Mellon College of Science.
Merit Award: Raymond Nardozzi
Ray Nardozzi, procurement and facilities manager in the Pittsburgh Supercomputing Center (PSC), received the Merit Award for maintaining an outstanding job performance level and consistently making significant contributions to the PSC. "It's not just the performance of his duties that define Ray, but it's the tremendous person that he is," said Dave Kapcin, director of finance and administration at the PSC. When Nardozzi arrived at the PSC in 2001, the center had just received a $45 million grant from the National Science Foundation to build a terascale computing system. "To a large extent, because of Ray's efforts, the terascale computing system was a huge success," which has led to the PSC's continued success in securing other high-performance computing systems over the years.
Rookie Award: Patricia Hredzak-Showalter
As the lab manager for the undergraduate labs in the Department of Biological Sciences, Trish Hredzak-Showalter provides solutions and materials so that lab courses run smoothly and effectively. At the beginning of the semester, she even pours 10,000 agar plates. "The rookie award is for an employee who exceeds all expectations in meeting the challenges of their job. Trish does this times 1,000," said Carrie Doonan, director of undergraduate laboratories and teaching professor. "Trish has done an amazing job. On top of everything she does, she also comes to classes and lectures to learn all that she can. It's no wonder that the students always ask her, 'Will you be my lab partner?'"
Special Award: John Porco
"Many of us may take the contracts done for our research for granted or as a nuisance," said Shawn Brown, director of public health applications at the PSC. But that's not the case at the PSC, mostly because of John Porco, a contracts officer in the Office of Sponsored Programs. "John is as essential to our research as the researchers doing the work themselves," Brown said. "John never complains, never balks, and he is always there, making sure that the research gets done without hassle, risk and undue overhead. I feel comfort in knowing that someone like him is looking out for my group's, my center's, and the Mellon College of Science's best interests."
Outstanding Achievement Awards
The Outstanding Achievement Awards recognize MCS staff members for their substantial achievement and outstanding job performance. This year multiple awards were given out within the college:
Biological Sciences: Donya Parker
Donya Parker is an administrative coordinator for the Department of Biological Sciences and is basically the department's "procurement lifeline." She processes all purchases for the department, juggles multiple urgent requests from faculty for equipment orders, service/maintenance contracts, and special requests that cannot be paid by university credit cards. She has a strong knowledge of university purchasing guidelines that enables her to work very independently.
Chemistry: Mark McElhaney
Many problems are likely to arise in an environment as complex as a chemistry laboratory. Mark McElhaney, a laboratory technician in the Department of Chemistry, problem-solves with students, staff and faculty to find a solution to whatever issues come his way. He is always friendly, helpful and patient with students, and is always willing to help students who are struggling. As one student wrote, "He is an excellent asset to the lab and I look forward to working with him in Lab III."
Mathematical Sciences: Patsy J. McCarthy
In her role as assistant to the head of the Mathematical Sciences Department, P.J. McCarthy stays on top of multiple projects at the same time and is excellent at prioritization. Her reliability and accuracy are both at the highest level. One of her nominators noted that "she almost never makes a mistake. In fact, I am not aware of a single mistake or oversight of any significance made by P.J. in all of her time in the department."
MCS Dean's Office: May Simaan
May Simaan, assistant to the MCS Associate Dean and the Director of the Health Professions Program, contributes to major initiatives in MCS that impact undergraduate students and graduate students, as well as faculty—essentially everyone associated with MCS. "She performs all of her daily duties with the utmost respect for the importance of what we all try to accomplish in a given day," wrote one of her nominators. Simaan has a proven record of professionalism, reliability and integrity.
Pittsburgh Supercomputing Center: Philip Blood
Philip Blood, a senior computational scientist at the PSC, "is the ultimate ambassador for the PSC and CMU." According to his nominators, "He is unwaveringly positive, polite and cheerful. His enthusiasm is contagious, clearly transferring to others with whom he works at the PSC and elsewhere," including as the leader of the Campus Champions program for XSEDE, the National Science Foundation's Extreme Science and Engineering Discovery Environment.
Physics: Maria Wilkin
The Mellon College of Science is known across the university for having the best advising program. A key element of that is for students to see a welcoming, smiling face. Maria Wilkin, an administrative assistant in the Department of Physics, is that and much more. She works with Kunal Ghosh, the department's primary advisor, scheduling, and often rescheduling, dozens of student meetings every week. And she does it all with a professional and courteous attitude. "Maria embodies the spirit of the college every day, every second," Ghosh wrote."
---
Also during the ceremony, 17 staff members were given years-of-service awards, recognizing from 10 years to 30 years with MCS.