February 04, 2015
Physics Professor Shirley Ho and Chemistry Graduate Student Danielle Chirdon Win Carnegie Science Awards
By Jocelyn Duffy jhduffy(through)andrew.cmu.edu

PITTSBURGH- The Carnegie Science Center has announced that Shirley Ho, assistant professor of physics, and Danielle Chirdon, a graduate student in the Department of Chemistry, have been awarded Carnegie Science Awards. Ho will receive the Emerging Female Scientist Award and Chirdon will receive the University/Post-Secondary Student Award at a banquet on May 8.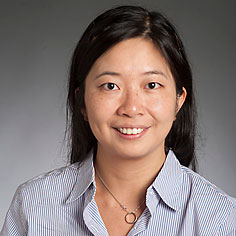 Ho was recognized for her outstanding achievements in the field of cosmology, where she is considered to be among the premier researchers in astrophysics for both her own research and her contributions to international collaborations. Ho has devised a method for controlling systematic errors in data from large astronomical surveys, which has led to some of the most accurate measurements of the scale of the universe. She also conducts research aimed at understanding how dark energy accelerates the expansion of the universe.
A member of CMU's McWilliams Center for Cosmology, Ho has taken a number of leadership roles in large international research collaborations, serving as co-chair of the Clustering Working Group for the Dark Energy Spectroscopic Instrument, co-leader of the Large Scale Structure Working Group for the Large Synoptic Survey Telescope's Dark Energy Science Collaboration, and co-chair of the Lyman Alpha Forest Working Group for the Sloan Digital Sky Survey. She is also a member of the NASA team of U.S. scientists participating in the science program for Euclid, a European satellite experiment.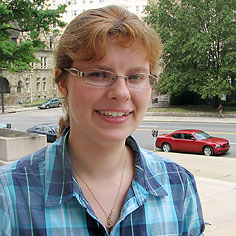 Chirdon, a graduate student in the Department of Chemistry and a Department of Energy Fellow, was recognized for her research in inorganic chemistry and her outreach work with K-12 students. In the lab of Chemistry Professor Stefan Bernhard, Chirdon conducts research on organic solar cells, the photogeneration of hydrogen and rechargeable flow batteries. She has co-authored 10 scientific papers, including one in the journal Inorganic Chemistry, the premier periodical in her field.
Chirdon founded and is co-president of Future Leaders in Science, an organization that provides outreach opportunities to undergraduate and graduate students in Carnegie Mellon's Mellon College of Science. Future Leaders in Science helps to prepare Carnegie Mellon students for their future careers by developing their leadership and communication skills and their commitment to service. The group also gives back to the community through programs that by engaging K-12 students in STEM activities. Chirdon is also an active participant in DNAZone, the outreach program of Carnegie Mellon's Center for Nucleic Acids Science and Technology
Four other Carnegie Mellon faculty members were named recipients of Carnegie Science Awards this year. David Brumley, associate professor of electrical and computer engineering and technical director of CyLab, won the University/Post-Secondary Educator Award; and Jeanne VanBriesen, the Duquesne Light Company Professor of Civil and Environmental Engineering, won the Environmental Award. Two professors received awards through their spin-off companies: Luis von Ahn, associate professor of computer science, won the Information Technology Award for his work with Duolingo; and Jesse Schell, Distinguished Professor of the Practice of Entertainment Technology at the Entertainment Technology Center, won the Entrepreneur Award for his work with Schell Games.
The Carnegie Science Awards recognize and promote outstanding science and technology achievements in western Pennsylvania. Since 1997, they have honored the accomplishments of more than 400 individuals and organizations whose contributions in the fields of science, technology and education have impacted our region's industrial, academic and environmental vitality.
###