July 08, 2014
Physicist Markus Deserno Appointed to the Editorial Board of the Biophysical Journal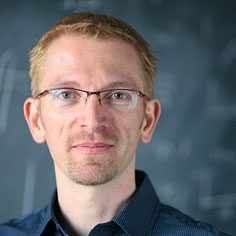 Markus Deserno, associate professor of physics, has been appointed to the editorial board of the Biophysical Journal, the leading international journal for original research in molecular, cellular, and systems biophysics. Editorial board members, who are appointed for three years, take responsibility within one of the seven subsections of the journal. Deserno assumed responsibilities within the membrane section on July 1.
"I am excited to become part of the editorial process at the Biophysical Journal," said Deserno, who has been a regular author and reviewer for the journal. "I have always been impressed by the quality of the journal and the care with which editors handle manuscripts. These are high standards to live up to."
Deserno joined Carnegie Mellon's Department of Physics in 2007; he became associate department head in 2013. His main research interest is biological physics, with a special focus on lipid membranes. He uses a wide spectrum of techniques, ranging from coarse-grained computer simulations over differential geometry to statistical field theory, to understand the mesoscopic behavior of membranes and their interaction with proteins. He is a member of the Department of Physics' Biological Physics Initiative.