June 13, 2014
John Woolford Named Acting Head of Biological Sciences
By Jocelyn Duffy jhduffy(through)andrew.cmu.edu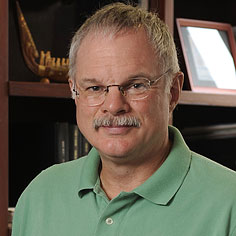 PITTSBURGH—John Woolford, professor of biological sciences, has been named acting head of the Department of Biological Sciences. Woolford will take leadership of the department as Nathan Urban, the Dr. Frederick A. Schwertz Distinguished Professor of Life Sciences and current department head, assumes the position of interim provost July 1.

Woolford joined the Carnegie Mellon faculty in 1979. He is the co-director of the Center for Nucleic Acids Science and Technology (CNAST), a multidisciplinary center focused on understanding the biology of nucleic acids and developing new technologies aimed at regulating gene expression. Woolford's research focuses on ribosome assembly and formation.

Woolford received the Mellon College of Science's Julius Ashkin Award in recognition of his excellence in teaching undergraduates and the Richard Moore Award for his sustained contributions to the college. He also received the university's William and Frances Ryan Award for meritorious teaching.
###