March 14, 2014
Rachel Mandelbaum Named First Recipient of Falco DeBenedetti Career Development Professorship in Physics
By Jocelyn Duffy jhduffy(through)andrew.cmu.edu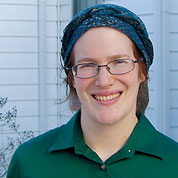 Rachel Mandelbaum, assistant professor of physics and member of the McWilliams Center for Cosmology at Carnegie Mellon University, has been named the first recipient of the Falco DeBenedetti Career Development Professorship in Physics.
The professorship, funded by Emma (Falco) DeBenedetti and her family, supports junior faculty in the physics department whose work shows great promise by helping them to further their research.  The professorship is a tribute to the family's ties to the university and the memory of Mrs. DeBenedetti's late husband Sergio DeBenedetti, who was a member of Carnegie Mellon's physics faculty for 34 years.                 
Mandelbaum is an astrophysicst who studies weak gravitational lensing, a technique that measures the large-scale distribution of ordinary and dark matter in the universe. She conducts her research through many large international collaborations. Mandelbaum holds leadership roles in a number of these projects; she is co-leader of the weak lensing working group for the Hyper Suprime-Cam at the Subaru Telescope, and co-leader of the weak lensing working group for the Dark Energy Science Collaboration for the Large Synoptic Survey Telescope. She is also the co-leader of the Gravitational Lensing Accuracy Testing Challenge (GREAT3), a worldwide competition to develop and test weak lensing measurement techniques.
In 2011, Mandelbaum was awarded the Annie Jump Cannon Prize from the American Astronomical Society for her contributions to weak gravitational lensing. She received a Department of Energy Early Career Award in 2012 and an Alfred P. Sloan Fellowship in 2013.