May 05, 2014
MCS Staff Awards, 2014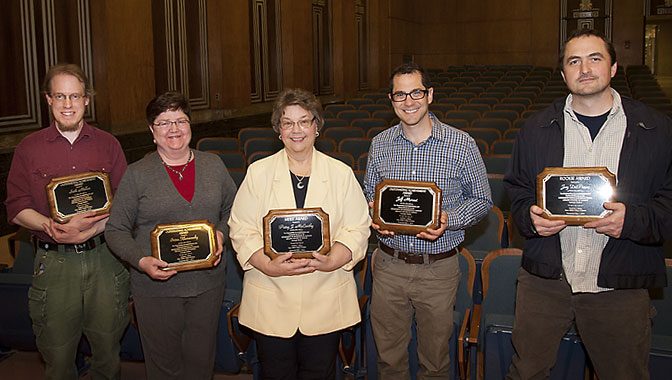 ---
On May 1, faculty, staff and administrators gathered in the Mellon Institute to honor MCS staff members for their dedication and service to the Mellon College of Science.
Merit Award: Patsy J. McCarthy
Patsy J. McCarthy, assistant to the Mathematical Sciences department head, received the Merit Award for maintaining an outstanding job performance level and consistently making significant contributions to the department. Department Head Tom Bohman, who nominated McCarthy for the award, readily acknowledges that his "is a job that I'm pretty sure is not doable without the assistance of P.J." McCarthy manages office correspondence, secures visas for new faculty members, organizes events for the department, liaises with FMS, plays a central role in putting together documentation for the department, such as the advisory board report, and much more. Over the years McCarthy has worked with four different department heads and one interim head, and they all are "in firm agreement that she is indispensible."
Rookie Award: Jay DePasse
Jay DePasse, senior computational public health applications specialist at the Pittsburgh Supercomputing Center, received the Rookie Award for his fearlessness, dedication and talent. "Jay is one of the most thoughtful researchers/developers I've ever had the chance to work with," said Shawn Brown, who nominated DePasse for the award. "In the last year Jay has contributed to the success of many projects that are not only scientifically interesting but also are actually making a real difference in the world, whether it's fighting malaria or getting kids vaccines in developing countries or fighting pandemic influenza."
Outstanding Achievement Awards
The Outstanding Achievement Awards recognize MCS staff members for their substantial achievement and outstanding job performance. This year multiple awards were given out within the college:
Biological Sciences: Irina Khersonsky
Irina Khersonsky, research associate I, anticipates the needs of the instructors and the 50-60 students working in the Biological Sciences undergraduate labs, supplying them with everything they need to keep the labs running efficiently. According to Carrie Doonan, Khersonsky is "independent, responsible, dependable, and hardworking." And she "typifies each of these qualities each and every day."
Chemistry: Seth Miller
Seth Miller has brought the Chemistry Department's computers into the modern age, but he still keeps systems from the early-90s alive and well. As principal programmer and system administrator, Miller takes every process in the department, including the graduate application software system, and makes it more efficient. And when a computer goes down, he is there to help. "He does so without ever making anyone feel dumb," said Rea Freeland. "When you are a computer expert of this magnitude, it's quite an achievement."
Mathematical Sciences: Jeff Moreci
In Florin Manolache's experience, business managers can be intimidating. But that's not the case with Jeff Moreci, the business manager for the Mathematical Sciences Department. "It's always a pleasure to walk into Jeff's office," Manolache said. Moreci not only works on projects for his own department but he also helps with projects involving other departments, and he doesn't complain. "When you walk into Jeff's office, he says 'This is possible' and he tries to find ways to make it happen."
Pittsburgh Supercomputing Center: Kathy Benninger
Kathy Benninger, the manager of networking research for the PSC, is nationally known for her ability to troubleshoot problems with end-to-end data transfers. "Kathy is a genuine networking guru," said Bob Stock, who nominated her for the award. In addition to her technical expertise, Benninger is deeply committed to encouraging young women to consider careers in STEM fields, and is an excellent role model. "Kathy is thoughtful, gracious, kind, and modest," Stock added.
Physics: Charles Gitzen
Charles Gitzen has been with the university for approximately 45 years, all of them with the Physics Department's storeroom. He plays many roles as storeroom manager, but as Patrick Carr and many others in the department know, Gitzen is "the general go-to guy for anything that needs to be fixed." In the past two years the Physics Department has seen significant growth in the number of people and its level of activity. "The demands on Chuck have increased but he delivers the same exceptional performance," Carr said.
---
Also during the ceremony, 32 staff members were given years-of-service awards, recognizing from 5 years to 30 years with MCS.