April 29, 2014
Mathematical Sciences Professor Irene Fonseca Named University Professor
University Professorship is the Highest Faculty Distinction at Carnegie Mellon
By Jocelyn Duffy jhduffy(through)andrew.cmu.edu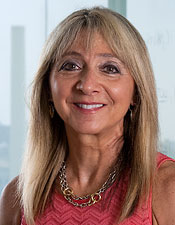 PITTSBURGH- Irene Fonseca, the Mellon College of Science Professor of Mathematics, is one of five professors to receive the elite distinction of University Professor, the highest academic accolade a faculty member can achieve at Carnegie Mellon. The rank of University Professor recognizes a faculty member for representing the intellectual leadership of Carnegie Mellon through their expertise and accomplishments in their respective fields of study.
Along with Fonseca, Carnegie Mellon University Provost and Executive Vice President Mark Kamlet, Robert E. Doherty Professor of Psychology Sheldon Cohen, Thomas Stockham Baker Professor of English Jim Daniels, and Herbert A. Simon Professor of Computer Science Manuela Veloso were named to the 2014 Class of University Professors. 
Fonseca has been a member of the Carnegie Mellon faculty since 1987. She is an internationally respected educator and researcher in the field of applied mathematics. 
Her research lies at the interface of applied analysis with materials and imaging sciences. In particular, her work focuses on the mathematical study of a variety of novel man-made materials, including ferroelectric, magnetic and magnetostrictive materials, shape memory alloys, composites and liquid crystals. She also studies the variational analysis of denoising, detexturing, inpainting and recolorization in computer vision.

Fonseca directs Carnegie Mellon's renowned Center for Nonlinear Analysis, a center devoted to research and training in applied mathematics at the intersection of mathematics and the physical sciences and engineering. She also is the director of the Partnerships for International Research and Education project, a National Science Foundation-funded multi-institution grant that addresses issues in applied mathematics and mechanics that arise from materials science. These programs support groundbreaking research in applied mathematics, as well as the education and early careers of many young mathematicians. Fonseca is an essential member of the faculty at CMU-Portugal, serving as director of the applied mathematics doctoral program.

"Irene's international reputation has contributed to the successes of the Department of Mathematical Sciences, and the university as a whole," said Fred Gilman, dean of the Mellon College of Science. "For all of her accomplishments, Irene is dedicated to her students, making training the next generation of mathematicians and materials scientists her top priority."

Fonseca has a strong international presence in the mathematics community. She is serving a two-year term as president of the Society for Industrial and Applied Mathematics. Fonseca is the second woman to hold this leadership position. In addition, she sits on many committees and the boards of several major international research centers and universities. 

In 1997, she was bestowed knighthood in the Military Order of St. James by the president of Portugal in recognition of her contributions to scientific progress in the European Union.