April 21, 2014
Marion Oliver Receives University's Award for Outstanding Contributions to Academic Advising
By Jocelyn Duffy jhduffy(through)andrew.cmu.edu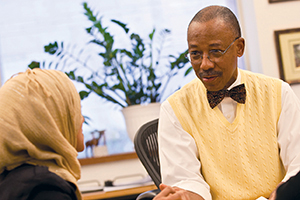 When Marion Oliver (S'72) arrived at Carnegie Mellon as a graduate student in 1967, he probably had no idea that nearly 50 years later he'd be working for the university halfway around the world from Pittsburgh.

Oliver, Carnegie Mellon in Qatar's First-Year Student Adviser and teaching professor of mathematical sciences, has been named this year's recipient of the University Advising Award for his contributions that span decades and continents. Oliver will receive the award at the University Celebration of Education ceremony on April 22. 

After completing his master's and doctoral degrees in mathematics in 1972, Oliver joined the faculty and became part of the Carnegie Mellon Action Project (CMAP), which provided academic, personal and career development programs and services to minority students. In 1974, he was named the program's director.

"As acting dean of our Qatar campus, I had the opportunity to observe and to appreciate the depth of his concern for, and knowledge about each student, where they came from, and what their concerns and interests were. I cannot imagine an individual more committed to the successful integration of students into the Carnegie Mellon community," said G. Richard Tucker, the Paul Mellon University Professor of Modern Languages.

Oliver has served as provost and vice president for Academic Affairs at Millersville University, vice dean at the University of Pennsylvania's Wharton School and manager of training in the Middle East for Mobil Oil Corp.

His experiences and knowledge of Middle Eastern culture made Oliver an ideal fit for CMU-Q. He joined the faculty in Doha when the campus opened, teaching first-year calculus and advises approximately 100 students each year. 

Students who were part of the CMAP program in the '70s and CMU-Q students today supported Oliver's nomination with letters remarkably similar, stating that Oliver was an important role model. Many credited academic, professional and career success to his advice and teaching. 

"Marion was simultaneously an adviser, role model, confidant and friend for the students who participated in CMAP," said Russell Walker, teaching professor of mathematical sciences. "And it is much the same today for our students in Qatar. Marion Oliver's contributions to the success of Carnegie Mellon students are unique in university history."