May 14, 2013
MCS Staff Awards, 2013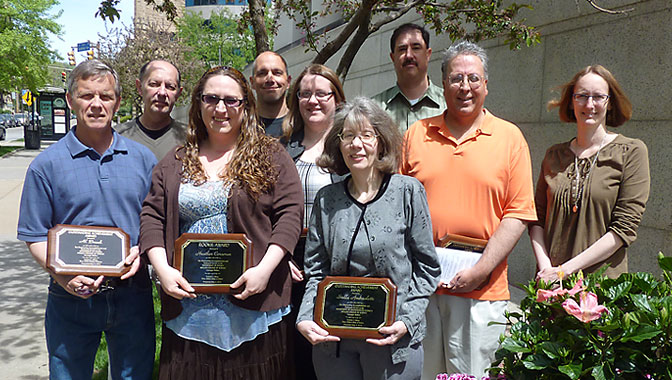 ---
On May 3, faculty, staff and administrators gathered in the Mellon Institute to honor MCS staff members for their dedication and service to the Mellon College of Science.
Merit Award: Kristen McConnell
Kristen McConnell, publications coordinator and web master for the Department of Biological Sciences, received the Merit Award for maintaining an outstanding job performance level and consistently making significant contributions to the department. Shoba Subramanian, who supported McConnell's nomination, pointed out that McConnell's work on the department's website is critical because it's the face of the department. "Our website is pretty awesome, and that's because of Kristen." McConnell also designs and produces numerous materials for the department, including flyers, posters and The Promoter. She "works really efficiently and the work is just beautiful at the end," Subramanian said.
Rookie Award: Heather Corcoran
Heather Corcoran, secretary in the Physics Department, received the Rookie Award for "making everything run as smoothly as possible" when the department was short-staffed, even though she was new to the department. Patrick Carr, who presented the award to Corcoran, spoke of her willingness to take on extra assignments until a retiring staff member's position was filled. He said that Corcoran did it with aplomb and continues to be a valuable asset to the Physics Department.
Special Award: Ken Andreyo, Jordan Bush and Tim Kaulen
Ken Andreyo, Jordan Bush and Tim Kaulen, who are part of the university's Communications Design and Photography group, received the Special Award, which recognizes a person or team outside of the college for the service they have given to MCS. Their photos appear on the MCS website and in the MCS magazine, Science Connection. The outstanding work they do captures the spirit of MCS students and faculty. Nicole Reading had no trouble explaining the photography team's value: "These are the people who make MCS look good."
Outstanding Achievement Awards
The Outstanding Achievement Awards recognize MCS staff members for their substantial achievement and outstanding job performance. This year multiple awards were given out within the college:
Mathematical Sciences: Stella Andreoletti
Stella Andreoletti has worked at Carnegie Mellon for more than 40 years. Although her official title is student programs coordinator for the Mathematical Sciences Department, "unofficially, to us, she is the go-to person for anything involving any of the student activities," said Jeff Moreci. "All of those students who are doing great things in the field of mathematics and making the world better—I think Stella had a hand in all of that."
Physics: Albert Brunk
Al Brunk is a computer specialist and electronics engineer in the Physics Department, but, according to Gregg Franklin, Brunk is a guardian angel. Brunk maintains more than 200 laptops and workstations in classrooms and offices, and he also repairs various pieces of instrumentation throughout the department, which often requires very clever solutions. "The whole department is very grateful for what he does," Franklin said.
Pittsburgh Supercomputing Center: Erica Anderson, Dave Kapcin and Raymond Nardozzi
Bob Stock made it known that the PSC's business office, led by Dave Kapcin and with team members Erica Anderson and Ray Nardozzi, is critical to the ongoing success of PSC. "I can just walk into the business office at any time and request assistance with any issue and be confident that the team of Dave, Erica and Ray will come up with an optimal solution for me as soon as humanly possible," wrote one of the nominators. "And of course they do this for all of our other groups within PSC at the same time."
Chemistry: Jae Cho-Zollinger
Jae Cho-Zollinger works with the Matyjaszewski Polymer Group, handling everything from travel, reimbursements and purchasing transactions to planning CRP Consortium meetings twice a year for international scientists and business leaders. She also is the program assistant for the journal Progress in Polymer Science, which means that she tracks nearly 100 manuscripts annually from their submission through publication. According to Brenda Chambers, Cho-Zollinger does it all with a smile. "Jae is consistently pleasant, and is always willing to help others."
---
Also during the ceremony, 27 staff members were given years-of-service awards, recognizing from 5 years to 30 years with MCS.