February 22, 2013
Two MCS Faculty Awarded Prestigious Sloan Fellowships
By Jocelyn Duffy jhduffy(through)andrew.cmu.edu

Two MCS faculty members, mathematician Gautam Iyer and physicist Rachel Mandelbaum, have been awarded prestigious Sloan Research Fellowships. They are among 126 scientists and scholars, and two of four Carnegie Mellon University faculty members, to be honored this year by the Alfred P. Sloan Foundation. 
The fellowships, which include an award of $50,000 for two years, seek to stimulate fundamental research by early-career scientists and scholars of outstanding promise.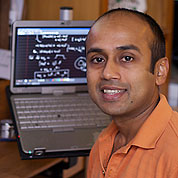 Gautam Iyer, an assistant professor of mathematical sciences and member of the Center for Nonlinear Analysis, studies incompressible fluids, diffusive transport, mixing, liquid crystals and coagulation. His research could help advance the understanding of mathematical models that will allow for the simulation of a variety of phenomena, including physical and chemical processes.
Iyer earned his bachelor's degree in mathematics from St. Xavier's College in Mumbai, and his master's and doctoral degrees in mathematics from the University of Chicago. In 2006, he was named the Szegö Assistant Professor of Mathematics at Stanford University, and in 2009 he joined the CMU faculty. Iyer has been continuously funded by the National Science Foundation since 2007.
Rachel Mandelbaum, an assistant professor of physics and member of the Bruce and Astrid McWilliams Center for Cosmology, conducts research on weak gravitational lensing, a cosmological tool that can be used to study the distribution of both dark and ordinary matter in the universe. Mandelbaum participates in large astronomical and spectroscopic imaging surveys including the Sloan Digital Sky Survey III, the Large Synoptic Survey Telescope, and the Hyper Suprime-Cam at the Subaru Telescope. Recently, she was named to the NASA science team that will be working on the European Science Agency's Euclid survey.
Mandelbaum earned both her bachelor's and doctoral degrees at Princeton University. She completed a Hubble Fellowship at the Institute for Advanced Study and then returned to Princeton as an associate research scholar. She joined the CMU faculty in 2011, and was awarded a Department of Energy Early Career Award in 2012.
Other recipients at CMU are David Brumley, assistant professor of electrical and computer engineering and Seyoung Kim, assistant professor in the Lane Center for Computational Biology.