January 28, 2013
CMU Professor Krzysztof Matyjaszewski To Receive Inaugural AkzoNobel North America Science Award
By Jocelyn Duffy jhduffy(through)andrew.cmu.edu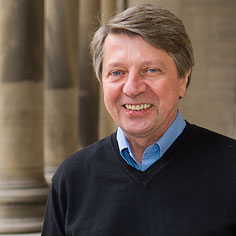 PITTSBURGH—
Krzysztof Matyjaszewski
, the J.C. Warner Professor of the Natural Sciences at Carnegie Mellon University's 
Mellon College of Science
, has been named the first recipient of the AkzoNobel North America Science Award for his cutting-edge polymer chemistry research.  The award is given by 
AkzoNobel
, the world's largest paints and coatings company, and the 
American Chemical Society
 (ACS), the world's largest scientific society.
The 
AkzoNobel North America Science Award
 was created to recognize outstanding scientific contributions by an individual in the fields of chemistry and materials research conducted in the U.S. or Canada. The AkzoNobel Science Award was first presented in the Netherlands in 1970 and then extended to Sweden (1999), China (2010) and the U.K. (2012). 
AkzoNobel established the North America award in 2012 in collaboration with ACS to recognize individuals helping to create a more sustainable future through scientific research. The company has a deep commitment to sustainability and has integrated it into every area of its business.
"We have honored individuals for their innovative contributions to scientific research for more than 40 years with the AkzoNobel Science Award," said Graeme Armstrong, Executive Committee Member for Research, Development and Innovation for AkzoNobel. "We are privileged to recognize Professor Matyjaszewski and will continue to acknowledge those who are undertaking big, innovative research that can deliver tomorrow's answers today."
From his discovery of atom radical transfer polymerization (ATRP), an innovative process for constructing macromolecules, to educating students and industrial scientists on the new procedures for polymeric material development, Matyjaszewski dedicates his efforts to delivering leading-edge research that will help advance the field of polymer chemistry. Polymer chemistry, also known as macromolecular chemistry, is the area of chemistry that generates advances in everyday products and materials such as building materials, furniture, paints and plastics. 
 "We recognize the outstanding work that Professor Matyjaszewski has accomplished when it comes to cutting-edge scientific research in the field of polymer chemistry," said ACS President Marinda Li Wu, Ph.D. "We are fortunate to have dedicated professionals like Professor Matyjaszewski who are visionaries and leaders in their field."
Matyjaszewski will receive a $75,000 cash award and certificate of recognition. He will be officially honored for his achievements at the ACS 245th National Meeting and Exposition, being held April 7-11 in New Orleans, La.
In addition to serving on the 
chemistry
 faculty at CMU's Mellon College of Science, Matyjaszewski is the director of CMU's Center for Macromolecular Engineering.  He has been cited in the scientific literature more than 50,000 times, making him one of the most cited chemists in the world. He is also one of the leading educators in the field of polymer chemistry, having mentored more than 200 postdoctoral fellows and graduate students.
In addition to the AkzoNobel North America Science Award, Matyjaszewski has received numerous awards for his work, including the 2011 Wolf Prize in Chemistry, the 2009 Presidential Green Chemistry Challenge Award and the ACS 2011 Applied Polymer Science Award. 
Born in Poland, Matyjaszewski received his doctorate from the Center of Molecular and Macromolecular Studies of the Polish Academy of Sciences in 1976 and completed a postdoctoral fellowship at the University of Florida in 1977.
###
About Carnegie Mellon University: Carnegie Mellon (www.cmu.edu) is a private, internationally ranked research university with programs in areas ranging from science, technology and business, to public policy, the humanities and the fine arts. More than 11,000 students in the university's seven schools and colleges benefit from a small student-to-faculty ratio and an education characterized by its focus on creating and implementing solutions for real problems, interdisciplinary collaboration and innovation. A global university, Carnegie Mellon's main campus in the United States is in Pittsburgh, Pa. It has campuses in California's Silicon Valley and Qatar, and programs in Asia, Australia, Europe and Mexico. The university is in the midst of a $1 billion fundraising campaign, titled "Inspire Innovation: The Campaign for Carnegie Mellon University," which aims to build its endowment, support faculty, students and innovative research, and enhance the physical campus with equipment and facility improvements. 
About AkzoNobel: AkzoNobel is a Global Fortune 500 company and is consistently ranked as one of the leaders on the Dow Jones Sustainability Indexes. With operations in more than 80 countries, its 55,000 people around the world are committed to excellence and delivering Tomorrow's Answers Today™. AkzoNobel supplies industries and consumers worldwide with innovative products and is passionate about developing sustainable answers for its customers. The AkzoNobel portfolio includes well-known brands, such as Glidden, Dulux, Sikkens, International and Eka.
About American Chemical Society (ACS): The American Chemical Society (ACS) is a nonprofit organization chartered by the U.S. Congress. With more than 164,000 members, ACS is the world's largest scientific society and a global leader in providing access to chemistry-related research through its multiple databases, peer-reviewed journals and scientific conferences. Its main offices are in Washington, D.C., and Columbus, Ohio.