August 16, 2013
Health Professions Program Welcomes New Director, Jason D'Antonio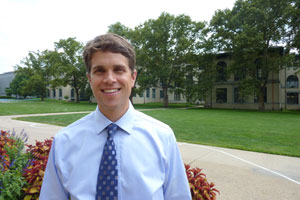 The Health Professions Program is pleased to introduce our new director, Jason D'Antonio, Ph.D.
D'Antonio grew up in the North Hills of Pittsburgh and moved to Colorado in 1993 to attend the University of Colorado at Boulder. After graduating with degrees in Philosophy and Biology, he worked at a Boulder law firm as a paralegal and then at Merrill Lynch, where he handled numerous employee stock purchase and stock option plans. In 2002, D'Antonio returned to Pittsburgh to pursue a Ph.D. in Cellular and Molecular Pathology at the University of Pittsburgh School of Medicine, focusing on hormone signaling in prostate cancer, specifically the adaptive role of the androgen receptor in disease progression to advanced, metastatic, hormone-refractory disease. After completing postdoctoral research at Johns Hopkins University School of Medicine on the role of the androgen receptor in prostate cancer, D'Antonio joined American University's Department of Biology as a teaching professor.
D'Antonio is passionate about teaching and mentoring because he loves getting students excited about biology and helping them become confident and comfortable in the choices they make for their futures. As the director of Carnegie Mellon's HPP, D'Antonio wants to work with and mentor students as they pursue careers in the health professions, helping them to think as 'big picture' as they possibly can to make sure that their chosen profession is right for them.