Innovation on Ice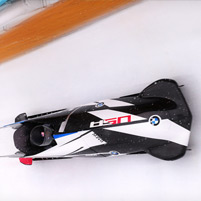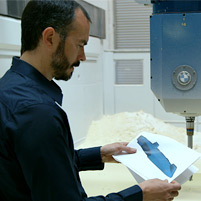 Michael Scully
As creative director of BMW's DesignworksUSA, Carnegie Mellon University alumnus Michael Scully (A'95) has spent the last two years working on the ultimate driving machine for the U.S. Olympic team.

"This is the fastest sled out of the box we've ever seen," said Darrin Steele, CEO of USA Bobsled & Skeleton. "Overall this is an absolute home run."

Team USA has already used his two-man sleds with fantastic success in World Cup competition. In their Olympic debut at the Sanki Sliding Center in Krasnaya Polyana, U.S. men drove one of the sleds to a bronze medal, and the women captured silver and bronze medals.

"The priority of the project is speed. It has to go faster than any other sled. It has to be a tool for our athletes," Scully said.

"If the sled looks fast and is fast, and the quality is extremely high, that gives an athlete confidence that they have the best tool available."



Scully joined BMW right after graduating with a degree in industrial design.

Stephen Stadelmeier, associate head of the School of Design said Scully is in the perfect place. An accomplished race car driver and snowboarder, he said Scully enjoyed building things that were fast even in college.

"He came to CMU with a longstanding passion for things that rolled fast and looked the part," Stadelmeier recalled.

With a background in architecture, sculpture, industrial design, strategy and conceptual engineering, Scully brought a variety of skills to the table. While CMU's School of Design has never offered specific coursework in transportation design, Stadelmeier said Scully was able to look at design as a form of rhetoric; visual argumentation.

"When Michael went to BMW, they lit up over that," Stadelmeier said. "Cars are a platform to tell a story. You don't put it into words, you tell it with sheet metal and carbon fiber."

In designing the bobsleds, Scully generated dozens of computer models that were tested before prototypes were tested.

His finished design features a more pointed nose than traditional sleds. He also lowered its center of gravity. He used carbon fiber for the body of the sled, which made the sleds weigh less than the 374-minimum pound requirement. He and the drivers were then able to add strategically placed weights into the design to improve the steering.

Scully told Bloomberg News that lessons learned from building bobsleds could translate into future automobiles.

"Designing something that has to experience so many varied positions as it goes down the track, that's a new level of aerodynamic challenge compared to what a car would have experienced typically," Scully said.


Follow BMW USA Bobsled on Twitter and Facebook.
Related Links: School of Design | L.A. Times: Bobsled designer races to craft a U.S. winner for 2014 Sochi Olympics | NBC: How BMW is making U.S. world's top bobsled nation
---