Improv for Engineers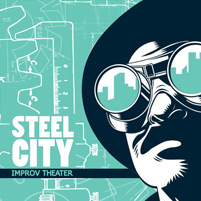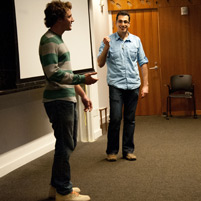 Biomedical engineering students at Carnegie Mellon University got a taste of improvisational acting from the quick-witted Steel City Improv group.

The workshop was aimed at building teamwork and leadership skills as well as helping them think more creatively.

"Engineers are taught to seek the 'right answer' but inventors need to search beyond what is currently known, or exists today," said James Antaki, a professor of biomedical engineering at CMU. "They need to overcome psychological inertia and gain confidence in their intuition."

Enter: the Steel City Improv group.

"In an improv setting, your actions are dictated by those around you and require you to be completely in tune with your surrounding as you build off prior information," said Brett Bergman (E'14), who participated in the exercise.

"I found myself sincerely observing and listening to everything that was happening around me, and in our world of mobile devices and information overload that's not what you typically find people doing," he said. 

Another aspect of the exercise that Bergman found enlightening involved decision-making.

"As an engineering graduate student, in-depth analysis is crucial to my research, but too often I find myself and those around me stymied by 'analysis paralysis' or the fear of making a wrong decision," he explained.

"During the workshop I truly felt a sense of relief, knowing that I can make any decision at the drop of a hat, and my surroundings will adapt."

Bergman added, "Having the ability to make split-second decisions based on the information at hand is vital to becoming a visionary and leader in any industry."

Antaki said he is proud of his students for venturing out of their comfort zone, and pointed out the similarities between improv and brainstorming.

"In both, you have to act quickly. You can't overthink the problem, and you have to accept seemingly crazy ideas and run with them," Antaki said. "And you have to pay attention in improv. You have to do 'something.' You can't just sit there. And you have to support your 'teammates,' make your partner look good. That ingrains a habit of effective teamwork."

It's the first time Antaki tried this kind of workshop for students, and based on all of the positive student response in a post-workshop survey, he would like to do it again.

The exercise was part of his new class, Biomedical Inventive Problem Solving, designed to encourage students to find innovative ways to address some of the most challenging and longstanding issues in medicine such as affordable health care for developing countries.

Antaki's students are currently working on a variety of challenges for The Children's Institute, Brother's Brother Foundation and NASA.

"We strive to teach our students how to invent on demand," Antaki said. "Improvisation is not just about being funny. The principles of improvisation — like 'trust your instincts,' 'break the rules' and 'always move forward' — inspire them to be more creative and think on their feet."
Related Links: Biomedical Engineering | College of Engineering | Steel City Improv
---