Heart & Home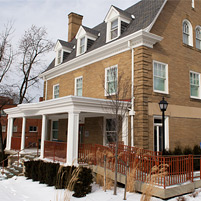 Alumni House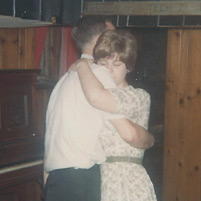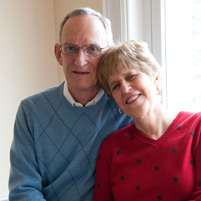 Michael & Lonna Smith
It was February 1966 when Lonna (Holstein) Smith (A'69) and Michael Smith (E'68) shared their first dance in the party room of Theta Xi's fraternity house on Forbes Avenue in Oakland.

Known in more recent years as Alumni House to the Carnegie Mellon University community, the building has just undergone a renovation to better serve visiting alumni.

"We are looking forward to the improved perception that alumni will have when they experience the house firsthand," said Andy Shaindlin, associate vice president for Alumni Relations & Annual Giving. "Feeling welcomed and recognized translates into positive attitudes toward an alma mater."

The Smiths, now married nearly 45 years, said the house still feels like home.

"The floor here in the entryway was black and white tile," Lonna recalled, as the couple embarked on a sneak preview during a recent trip to Pittsburgh. The couple resides in San Jose, Calif. "Over there in that room on the left is where the cook prepared the meals, and over here in this room the brothers would hold Greek Sing rehearsals."

The impromptu tour took them down memory lane and into the basement, where they discovered original fireplaces that still remained and enough of the old brick walls to reconstruct in their minds the rooms they had inhabited in their youth.

"This is where we met," Lonna said, as she recalled the night.

Earlier in the week, she and her friends had stolen Theta Xi's trophies. To get them back, the brothers had to invite the girls for dinner.

"They put green food coloring in all the food. Eventually, the meal turned into a food fight," Lonna said.

Frustrated with both the outcome and her date that evening, Lonna said she walked down to the party room where she found Michael standing alone.

"Well, Lonna, what are you going to steal next?" Michael asked her. After looking him over, she said, "Your heart."

Back in the present, Michael found the outside steps where he declared his love for Lonna by giving her his fraternity pin.

Upstairs, they passed an office that once served as the House Mother's room, although her fireplace now sits behind freshly painted drywall.

The nearly two-dozen bunk beds which once filled the third floor where the brothers slept are long gone. Today, that space is occupied by offices and cubicles of the university's Alumni Relations and Annual Giving staff.

"We want our alumni to think of the house as a home base when they visit campus, to serve as a hub for any of their needs and as a gathering place where they can relax, meet and engage with others in the CMU community," said Toni Sapet Ungaretti (MM'70), president of the Alumni Association Board.

Before the Smiths' visit ended, they paged through a few Thistles — CMU's yearbooks — that they noticed on some nearby shelves.

Michael collects Thistles along with other CMU memorabilia, including old postcards, football programs and anything related to Carnegie Tech.

"Lonna still has her old dink," Michael said, referring to the beanie that freshmen had to wear during the first week of classes.

Michael graduated in 1968 with a bachelor's degree in mechanical engineering from what is now known as CMU's College of Engineering. Lonna received her bachelor of fine arts degree in music from CMU's College of Fine Arts in 1969.
 
"Alumni expect — and deserve — a place on campus that they can call home, whether they are stopping by casually or attending events," Shaindlin said. "CMU's 94,000 living alumni are the university's only permanent constituency, so having a welcoming physical presence here will help us to reconnect them with Carnegie Mellon."

The official unveiling is one of the spotlight events for Spring Carnival, now in its 100th year. An Open House will be held from 10:30 a.m. to 2:30 p.m., Friday, April 11.

Visitors will be able to stop by the Alumni House, take a tour and learn about its history as well as what the house and the university's Alumni Association have to offer alumni, students, parents and friends.

"Lonna and I were very pleased to see how good the house looks after the recent renovation," Michael said. "Upon entering the front door, we were both struck by how warm and inviting it seems. While still retaining the character of the house we knew in college, it feels much more open and airy."

Michael added, "I'm definitely impressed and look forward to stopping by on future visits to campus."
Related Links: Alumni Association | Spring Carnival | Fraternity and Sorority Life at CMU
---