Decade in Doha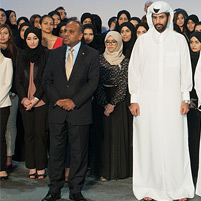 Dr. Subra Suresh at the ceremony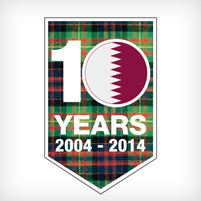 Carnegie Mellon University has traveled far in just 10 years and celebrated the first decade of its Qatar campus in Doha this week.

To mark this significant milestone, the university welcomed a number of distinguished international guests to its official anniversary ceremony on March 18.

Key leadership from Carnegie Mellon and Qatar Foundation for Education, Science and Community Development gathered at the university's campus in Education City, alongside alumni, students, faculty and staff. The celebration highlighted key achievements.

"Higher education and governments are awakening to need for greater educational opportunity, and many are taking action. But I can think of no other nation that has responded as vigorously and imaginatively as has Qatar," said Carnegie Mellon University President Subra Suresh. "The story of Education City has been a powerful example for the entire world, and the world has taken notice of this success."

One way international recognition has come has been through the high-profile visitors who have spoken at Carnegie Mellon University in Qatar including Bill Gates, Hillary Clinton, former U.S. Secretary of Energy Steven Chu, Founder and Chairman of Virgin Group Sir Richard Branson to name a few.

He renewed the university's pledge to help shape Qatar's future through nurturing the next generation of young leaders.

"We look forward to new opportunities to build on this success, by expanding student and faculty interactions and creating new opportunities for collaboration among Qatar and Carnegie Mellon's other campuses and programs around the world. It is a joy to be here today to celebrate what Carnegie Mellon in Qatar — and its young graduates — are accomplishing."

Among the attendees was Her Highness Sheikha Moza bint Nasser, chairperson of Qatar Foundation, whom Dr. Suresh called "inspirational in the evolution of collaborative efforts."

"Her deep and abiding belief in opening up new educational opportunities has been realized at Education City, which is a model for the world," he said.

Carnegie Mellon University Qatar joined Education City in 2004 and began teaching 41 students in two academic programs. Today, it offers five top programs to 400 students from 42 countries in a truly multi-cultural environment.

To date, almost 300 men and women have graduated from the university. Executive Vice President and Provost Mark Kamlet said that Carnegie Mellon Qatar graduates are highly sought. More than 90 percent of the university's alumni are either in graduate programs or employed in top organizations such as HSBC, Google, Microsoft, Qatar Petroleum, Qatar Shell and Sidra Medical and Research Center amongst others.

"When CMU-Q students and graduates compete on the international level, they come out on top. Thanks to Carnegie Mellon, Qatar now boasts four Google Anita Borg scholars. This is just one example of our success," Kamlet said.

The partnership between Qatar Foundation and Carnegie Mellon Qatar continues to thrive. The university's goals as a global higher education and research institution align closely with the vision and mission of QF.

"The dream of Qatar Foundation was to build a center of academic and research excellence for the country and the world, to build bridges across continents and cultures, bringing internationally established teaching and research institutions to our front door," said Engineer Saad Al Muhannadi, president of Qatar Foundation.

"As the foundations for the Carnegie Mellon facility were being laid in Qatar more than a decade ago, we turned this dream into a reality, brick by brick. Through hard work, dedication and the vision of Her Highness Sheikha Moza bint Nasser, chairperson of Qatar Foundation, our partnership with Carnegie Mellon Qatar has yielded great results and has grown from strength to strength."

Education City partners also include Virginia Commonwealth University, Weill Cornell Medical College, Texas A&M University, Georgetown University School of Foreign Service, Northwestern University, HEC Paris, University College London.
Related Links: Carnegie Mellon University Qatar | Highlighted International Speakers from the Last 10 Years [video] | Press Release: Carnegie Mellon Celebrates Decade of World-Class Education in Qatar
---