"The Last Lecture"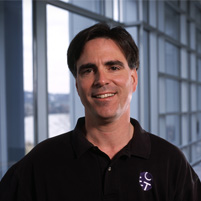 Randy Pausch
Carnegie Mellon University alumnus and professor Randy Pausch's timeless message is reaching a new era of students.

Some high schools now require reading "The Last Lecture," based on Pausch's Sept. 18, 2007 lecture called "Really Achieving Your Childhood Dreams."

Pausch, who co-founded CMU's Entertainment Technology Center and led the research team that created Alice, an educational software that teaches students computer programming, delivered his famous lecture a month after doctors told him he had three to six months to live after a recurrence of pancreatic cancer.

During his talk he recounted personal stories that shared the importance of overcoming life's obstacles, enabling the dreams of others and seizing every moment. Some of those moments included sharing that brick walls are there to stop people who don't want something bad enough, encouraging creativity in kids, dreaming big and reminding students that even in dangerous waters one penguin has to be brave enough to take the first dive.

A video of the lecture has been seen nearly 17 million times.

"What better message to give impressionable high school students?" said Adam Fine, principal of East Hampton High School in New York. "This is the type of read that our kids should do more of: Making the best of the worst."

Fine's school chose to select the book, which was co-written by Jeffrey Zaslow, (DC'80) as required reading for all 9–12th graders this summer as a shared summer reading experience. Students, high school staff and parents all read the book.

"We have emails from parents who said it was the best book they ever read," Fine said.

Fine said that at East Hampton, students felt a personal connection to the book.

"We've had a lot of loss in our community, parents who have passed of cancer, and we've had a lot of students affected," Fine said. "Reading the book was a challenging endeavor for some of those."

The school, which has about 900 students, is 40 percent Hispanic. Students read the book in English or Spanish. Once the semester started, teachers in all of the disciplines discussed the book during classes.

"It's going to be part of the fabric of our school," Fine said.

At Bernards High School in Bernardsville, New Jersey, "The Last Lecture" was one of four books chosen by students as part of the summer reading requirements.

Coleen Butler, supervisor of language arts literacy for the Somerset Hills School District, said that while each student only had to read two books, "The Last Lecture" was the most widely read book.

"We had one student who said that every time we opened the book, [Pausch] comes alive again," Butler said.

Students have asked if the book could be included among next year's choices. Butler shared a note that was sent to her by another teacher.

"My students expressed that what stuck with them the most were the lessons and how he communicated them through life experience/anecdotes," wrote Sky Monroe, who teaches English. "They also were inspired by his optimism and ambition (before and after his diagnosis)."

At Carnegie Mellon, students still mention Pausch's lecture in admission application essays, and incoming students discuss the book during Orientation Week.

Pausch's book or lecture is sometimes the first exposure that students have to Carnegie Mellon.

"The part of 'The Last Lecture' that resonates most with young people is the 'Brick Wall,'" said Mike Steidel, director of Admission. "And what do you do when you encounter a brick wall. That's the most common citation from the book we get in essays."
Related Links: Randy's Story | School of Computer Science | Entertainment Technology Center | Alice | Building Virtual Worlds | Zaslow's Story
---