Spirited Support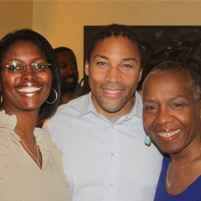 Sateria Venable (A'92), Robert Patterson Jr. (E'89), Dr. Gloria Hill, Dietrich College assistant dean and director of academic advising
As a Carnegie Mellon University undergraduate, Robert Patterson Jr. (E'89) lived student life to the fullest — and he's remained involved and committed to his alma mater ever since through his continued engagement and giving.

"If I do not support the things that are important to me," he said, "who will?"

Patterson's first contact with Carnegie Mellon was former football Head Coach Chuck Klausing, who expressed an interest in Patterson joining the team.

Coach Klausing said, "If you get accepted, we'll see you at camp." 

"I will never forget those words," Patterson said. "Once I got accepted it was an easy decision to enroll."

During college, the student-athlete enjoyed math and physics, as well as football and pushing Buggy. He also was a member of the National Society of Black Engineers (NSBE) and SPIRIT, an organization dedicated to promoting African-American awareness at CMU through cultural and social activities.

He's now a senior enterprise solution architect for Hewlett-Packard. In this role, he acts as chief strategist, working with senior corporate executives in using big data to drive their businesses. And he's grateful to CMU for helping him get there.

"CMU prepared me for the real world," he said.

Despite his busy work schedule and home life, Patterson is an active member of the Carnegie Mellon Black Alumni Association; supports the Carnegie Mellon Advising Resource Center, SPIRIT and SPIRIT Racing Systems; mentors NSBE students; and stays connected to CMU football by attending home games and enjoying regular contact with Head Coach Rich Lackner (DC'79).

His reasons for staying connected are many.

"First, my efforts largely focus on maintaining and enhancing the diversity of Carnegie Mellon by supporting the population of black students," Patterson said. "That includes retaining and graduating the current students, as well as attracting and admitting new students."

"Second," he added, "I have made some wonderful relationships that are a joy to maintain. I have many friends and several mentors across the staff, faculty and alumni of the university."

He's also a Loyal Scot, a 'plaid-to-the-bone' group of alumni and students who continue to support CMU and remain involved with the community.

"These things are important to me," Patterson said simply.

Are you a Loyal Scot? Check your status and see who among your classmates are current Loyal Scots.

Please join Robert by making your gift today.
Related Links: College of Engineering | National Society of Black Engineers | SPIRIT | Carnegie Mellon Black Alumni Association | Carnegie Mellon Advising Resource Center | CMU Football | Loyal Scot
---