Fulbright Student Scholars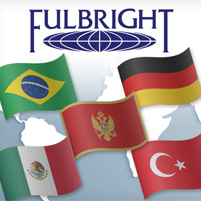 Five recent Carnegie Mellon University graduates will be making a global impact through this year's Fulbright U.S. Student Program.

Four are teaching English in Brazil, Germany, Montenegro and Turkey, and another will address clean water shortages in urban Mexican communities.

The U.S. Department of State Bureau of Educational and Cultural Affairs sponsors the program to "increase mutual understanding between the people of the United States and the people of other countries." It provides fellowships for U.S. graduating seniors, graduate students, young professionals and artists to study abroad, conduct research or teach English for one academic year.

"We are immensely proud of this year's finalists and awardees. The Fulbright distinction is a culmination of very intentional choices that they made during their time at Carnegie Mellon. Each of them has carved out a distinct undergraduate experience that combines rigorous study and scholarly inquiry with a deep intellectual curiosity about their role as scholars and citizens in a global community," said Joanna Dickert, Fulbright program adviser and assistant director, Office of the Dean of Student Affairs.

CMU's Fellowships and Scholarships Office guides students and alumni through the application process for prestigious national and international awards. There have been 52 Fulbright student scholars.

"As more of our students graduate with a broad swath of service and volunteer experiences, including teaching and tutoring in Pittsburgh and elsewhere, they are stronger candidates for Fulbright English Teaching Assistantships. Formal coursework in modern languages, global studies and international relations, along with travel and study abroad only strengthen their interests and applications," said Stephanie Wallach, assistant vice provost for undergraduate education.

Nina Mast (DC'14) will be teaching English in Turkey. The international relations and politics major has studied Arabic in Morocco and Jordan.

"I decided to apply for a Fulbright to Turkey because of its simultaneous similarities to and departures from traditional Islamic societies, its unique combination of modernity and history, and its political and ethnic diversity," Mast said. "At the same time, teaching English as a foreign language has been an interest of mine for several years, so this opportunity felt like a natural fit."

Global and German studies major Rachel Kuhn (DC'14) worked as a tutor in CMU's German Department. She said the experience taught her skills that would be useful in teaching language.

"I decided to apply for the Fulbright because it seemed like a great opportunity to live abroad while doing meaningful work," Kuhn said. "I also hope to get involved in my community and improve my German language skills." 

Gabriella Rueda (DC'13) will be in Brazil. Rueda, who has Ecuadorian heritage, said that the courses she took as a global studies major played an integral role in preparing her for the Fulbright experience.

"Likewise, I am grateful for the professors in my field who encouraged me to think with a more critical eye," Rueda said.

Mackenzie Evan Smith (DC'11) will be in Montenegro. She will be teaching English courses at the University of Montenegro and facilitating creative writing workshops focused on identity.

"At Carnegie Mellon, I was an Arabic teaching assistant and worked as an academic tutor. Both of these experiences gave me the foundational skills needed to teach English language learners," she said. "More importantly, my studies at Carnegie Mellon asked me to be intellectually curious and to explore ideas and perspectives different from my own."

Paulina Reyes (A'14) will put her architectural education to practice while devising strategies to bring clean water to families in Mexico City.

Through private sector and academic partnerships, Reyes will examine the architectural implications of water contamination and shortage faced by marginalized urban communities.

A second-generation immigrant, Reyes is looking forward to connecting with her cultural heritage. Her goals include improving her Spanish language skills and immersing herself in Mexico's creative culture through dance classes, live music performances and visits to architectural icons.

"What stands out among many of these candidates is how fully they took advantage of the many resources at Carnegie Mellon," Wallach said.

Those resources include robust undergraduate research through the Small Undergraduate Research Grants (SURG) and Summer Undergraduate Research Fellowships programs; the long-standing senior honors thesis program in the Dietrich College; and the Jennings Family Brave Companions Fund, funded by Trustee Larry Jennings and his wife, Katherine, which provides fully funded scholarships to travel abroad to underdeveloped countries during the summer and then to complete SURG research projects upon return.
Related Links: Dietrich College | College of Fine Arts | CMU Fulbright Scholars | Fellowships and Scholarships Office | Small Undergraduate Research Grants | Summer Undergraduate Research Fellowships
---