Entrepreneurship Bootcamp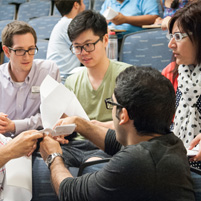 Entrepreneurship Bootcamp participants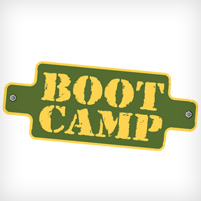 On a Saturday afternoon, Carnegie Mellon University students are filling up a Doherty Hall auditorium. They aren't there for class.

They're here to make a pitch as part of the final session of Entrepreneurship Bootcamp, the annual kickoff to the Center for Innovation and Entrepreneurship (CIE) CONNECTS Series.

Kit Needham, CIE's entrepreneur in residence, needles the crowd.

"You can't be shy. You have to get up and you have to speak and say what you're working on or what you want," she tells them, looking around the room.

One person stands. Heads turn and some lean forward.

Everyone is listening.

Entrepreneurship Bootcamp is a one-day crash course for CMU community members new to the startup world. In lectures, panels and group discussions, students and faculty interact with and learn from Silicon Valley veterans and peers who have successfully launched startups.

The day's events are a primer; the first in a series of talks, seminars and workshop events that comprise CIE's CONNECTS series. All of the events incorporate a networking session like "Making Connections," the culmination of Entrepreneurship Bootcamp where attendees stand to tell the room what they need help with, and where they're headed.

"The CONNECTS events provide an entrepreneurial education to people so busy in their own discipline, they can't fit the coursework in," said Dave Mawhinney, co-director of the CIE. "They also provide networking opportunities for people with complementary skill sets."

Will Lutz (DC'08, TPR'15) is a second year MBA candidate in the Tepper School of Business. When the CEO and cofounder of SitWith arrived at Bootcamp last fall, all he had was a sketch of a social discovery app.

"We had the idea, but we were just us kicking around stuff, not anything concrete or specific," Lutz said.

Now housed inside Pittsburgh startup accelerator AlphaLab, Lutz and the team from SitWith just launched their Android app, and with 100 registered users already on board, they're looking to grow as the iOS version hits Apple's App store.

Lutz said Bootcamp was his entryway into CMU's startup ecosystem. He attended CONNECTS events, worked with the team at the Project Olympus incubator and honed his idea for an app that helps people discover one another in the real world. He met Tianyu Yang one of SitWith's co-founders after learning how to look for talent at a CONNECTS seminar.

Encouraged by a steady stream of stories like Lutz's, attendance at Bootcamp has more than doubled. Two hundred students attended this year's event. The CIE is encouraging more participants from more schools to come learn business basics, meet Project Olympus Probe teams and hear from Pittsburgh area startup accelerators such as AlphaLab, AlphaLab Gear and CMU's Center for Technology Transfer and Enterprise Creation.

It's the mixture of practical advice and networking that make the CONNECTS events a success, said Lenore Blum, co-director of CIE, founding director of Project Olympus and a professor of computer science.

"Part of it is making connections, with students getting up and pitching their ideas and connecting with students from across campus, or with investors, or with students from Pitt," Blum said.

John Dieser and Glenn Philen came to Bootcamp looking for exactly that. The seniors are working to get their company, CarbonFreight, off the ground. They came in search of team members who want to change the way airlines transport cargo.

"At Carnegie Mellon there's this great entrepreneurial community and we want to take advantage of the university resources before we graduate," Philen said.

"We thought Bootcamp would be a good networking event. We've been working with Project Olympus, so we thought we'd see more of the resources on campus," Dieser added.

Like everyone else in the lecture hall on a Saturday afternoon, they are hoping the next piece of the puzzle, or the next big thing, is in the room.
Related Links: SitWith | Entrepreneurship Bootcamp | CONNECTS Series | CIE | Project Olympus | CarbonFreight | Tepper School of Business | Heinz College | School of Computer Science
---