Her 'Second Family'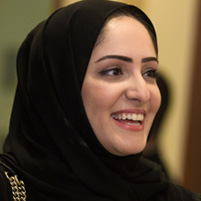 Maha Abdeen
With so many choices as a new graduate, Carnegie Mellon University in Qatar helped Maha Abdeen (CS'08) hone in on what was important to her.

Something high on that list: The second family she inherited through the university.

Six years after graduation, busy with work at Qatar Shell and finishing her master's degree, she stays in touch with her friends from Carnegie Mellon University in Qatar.

"I believe that because we were a small community that had just begun a journey in Qatar, that was the reason we created such strong relationships and considered the campus as our second home, our second family," she says.

CMU-Q celebrated its 10th anniversary in March. Abdeen was a member of the first class to graduate from the Doha campus.

Just before she graduated, Abdeen was recruited as a "change manager" for Qatar Shell, where she introduced a new software system and educated its new users. She has since worked in managing IT contracts and project reporting, and now has a position in the Project Management Office.

In her current position, she monitors project performance according to IT standards, controls and policies. She is in charge of IT projects internationally, including the Middle East, the Americas, Europe and Asia.

"I love my job because it's a global role and I get an overall picture of all projects around the world," she shared in an interview with Qatar Shell World magazine. "My team is very diverse, coming form different businesses and parts of the world, which gives me the opportunity to network with various stakeholders and customers."

Abdeen's primary responsibilities are to ensure that Qatar Shell's large-scale IT-enabled projects are implemented on time and on budget. The excitement — and the challenges — stem from a variety of day-to-day tasks, which include training new project managers and overseeing their work, reporting progress to top management, and analyzing issues and risks.

She credits her courses and professors at CMU-Q for helping her obtain her first position; her software engineering course specifically prepared her for stakeholder management, requirements gathering and quality checks. Equally important, she was grateful that the university helped her prepare her resume.

"CMU taught me to narrow my choices, and I believe this is a good strategy for fresh graduates who don't know much about the existing industries," she says.

Her community on campus has led to lasting relationships with friends that she considers her family. She says they all get together at least monthly to catch up.

Abdeen has been studying at the University of Liverpool long distance and is wrapping up her master's degree in project management this summer. She's already looking to the future, planning to pursue a Ph.D.
Related Links: CMU-Qatar Magazine | CMU-Qatar Computer Science
---