Celebration of Citizenship and Innovation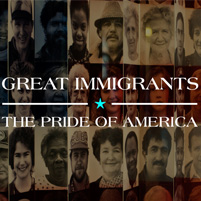 CMU President Subra Suresh
Carnegie Mellon University President Subra Suresh compares the journey he took to arrive at the university to that of its founder, Andrew Carnegie.

Both men have crossed boundaries to transform the U.S. and the world.

On America's birthday, July 4, President Suresh was among the women and men honored by the Carnegie Corporation of New York in a salute to Carnegie's legacy and American citizenship.

"Andrew Carnegie symbolizes the American dream in many ways," Dr. Suresh said. "And on a much smaller scale, I can say I have experienced that same spirit of the American dream."
 
Upon arriving at CMU, Dr. Suresh immediately drew connections between his own journey and that of Andrew Carnegie. Suresh first came from India to the U.S. in 1977 to pursue graduate studies at Iowa State University. He described having borrowed money for a one-way plane ticket with less than $100 in his pocket.
"I am grateful to the Carnegie Corporation for this great honor," Suresh said. "Andrew Carnegie was one of America's great immigrants, and like him, many who came to western Pennsylvania from distant shores have found Pittsburgh to be a great place to nurture their American dream. With its strong educational institutions, medical and health care enterprise, and innovation ecosystem, Pittsburgh offers a wealth of opportunities for immigrants from all over the world to make a true difference in the U.S."
Vartan Gregorian, president of Carnegie Corporation, first met Dr. Suresh when he was a professor at Brown University.

"I have watched his spectacular rise in the American academy with admiration," Gregorian said. "As a scholar, an engineer, a scientist and an administrator, Subra Suresh is a credit to Carnegie Mellon and to the nation. The former professor and dean of the School of Engineering at MIT, he has served his adopted country not only through research and teaching, but as the director of the National Science Foundation, for which he was nominated by President Obama and unanimously confirmed by the Senate. He has achieved the Academic Trifecta by being elected to all three U.S. National Academies — the Institute of Medicine, the National Academy of Sciences and the National Academy of Engineering."

"Born and raised in India, he might have considered himself a 'citizen of the world,' but chose to become a citizen of the U.S., and that speaks volumes to his patriotism. We honor him on this Fourth of July, and thank him for bringing his talents and his inspiring story to the U.S.," Gregorian said.

Pittsburgh is a city where immigrants have contributed innovations for more than 100 years and is home to one of America's most-educated groups of immigrants. The Allegheny Conference on Community Development, whose members are leaders of more than 300 companies and organizations, is looking to create new opportunities to attract even more talent to Pittsburgh.

"Immigration drives innovation. Newcomers bring a fresh perspective to companies and communities, challenging the conventional wisdom. We all become better as a result. Dr. Suresh's contributions to our nation represent one important example," noted Dennis Yablonsky, CEO of the Conference. "The future of our region depends on elevating and educating people who are already here, but it's every bit as important to retain and attract skilled immigrants."

The Carnegie Corporation's 2014 "Pride of America" honorees — 41 immigrants from more than two dozen countries — are leaders in multiple fields. They include Nobel Prize winners Yoichiro Nambu and Roger Guillemin; Microsoft CEO Satya Nadella; former U.S. Senator Rudolph Boschwitz; National Medal of Technology and Innovation winner Gholam Peyman; actor Aasif Mandvi; U.S. Ambassador to South Africa Patrick Gaspard; designers Vivienne Tam and Carolina Herrera; U.S. Small Business Association Head Maria Contreras-Sweet; and musician Dave Matthews.

Since 2006, the corporation has highlighted naturalized citizens in a full-page public service advertisement in the New York Times around Independence Day. Leonardo Balada, University Professor of Composition, was also recognized by Carnegie Corporation in 2013. Vinod Khosla (E'78), former CMU board of trustees member, was recognized in 2009.
Related Links: Great Immigrants: The Pride of America | Meet the President: Dr. Subra Suresh | Post-Gazette: Pittsburgh's economy has gained from high-skilled immigrants | Read press release
---