117th Commencement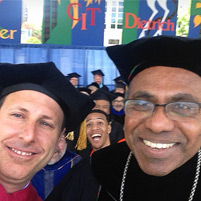 Principal speakers Jeffrey Housenbold, Bryan Lewis (background) and Subra Suresh
In a technological world the human element is key.

Speakers at Carnegie Mellon University's 117th Commencement reminded graduates that college is not only about finding their own paths, but also learning how to make a difference in the world at large.

CMU alumnus and trustee Jeffrey Housenbold (TPR'91), president and CEO of Shutterfly Inc., shared his life story and wisdom with the more than 3,000 graduates and their families. He said growing up he heard many reasons why he wouldn't succeed.

"You will hear a lot of no's in your life," Housenbold said. "My hope is you find your inner courage to tell the naysayers no. Go out and prove them wrong."
"Tell the naysayers NO, go out and prove them wrong" @jtbold @Shutterfly @CarnegieMellon #CMUgrad

— Amira Polack (@apolack) May 18, 2014
An
Andrew Carnegie Presidential Scholar
, Housenbold earned his bachelor's degree in economics and business administration from CMU in 1991, and his MBA from Harvard Business School, where he was a Dean's Fellow.
"Know the world will never be perfect. It is run by imperfect people," Housenbold said. "And Carnegie Mellon grads find a way to make the world a better place."
Student speaker
Bryan Lewis
(E'13, '14) inspired the audience with his speech about helping others reach their potential. Lewis earned his master's degree in energy science, technology and policy after earning his bachelor's degree in civil and environmental engineering and engineering and public policy a year ago.
"My experience here has helped define who I am," Lewis said. "In your journey to develop your passions and find your purpose always remember to know who you are, where you came from and to know what matters."
Know who you are. Know where you came from. KNOW WHAT MATTERS. Yes Bryan!!! #CMUgrad

— Anne Gunderson (@AnneLaurenG) May 18, 2014
President Subra Suresh reinforced the messages made by Housenbold and Lewis in his charge to graduates. He described the greatest problems of the 21st century as unexpected consequences of some of the greatest achievements of the 20th century, noted by the National Academy of Engineering.
President Suresh told graduates to go outside their comfort zones and remember to employ a human-centered framework when attacking these challenges. "I firmly believe that CMU's unique strength in crossing boundaries will position us to be global leaders in addressing many of those grand challenges more so than any other university," he said.

Citing Peter Drucker, Suresh added, "'Management is doing things right. Leadership is doing the right things.' At CMU, your experiences have helped you focus on doing the right things and also helped you learn how to do them the right way."

President Suresh said he always would remember this as his freshman year commencement.

"It's been a very busy and productive year for all of us," he said. "You are privileged to have amazing choices before you. I will confidently predict one thing: the pace of change will accelerate and bring incredible new capabilities for us."

During the ceremony, honorary degrees were given to three exemplary leaders whose life and work also cross many of Carnegie Mellon's fields. They were:

John Wells, a 1979 graduate of CMU's School of Drama and one of the most influential and successful producer-directors in American film and television, received a Doctor of Fine Arts degree. Wells is the creative force behind two of television's most popular programs of the past two decades, "ER" and "The West Wing." His recent work in television includes the TNT series "Southland" and Showtime's "Shameless." In 2013, he produced and directed "August: Osage County," which starred Meryl Streep and Julia Roberts, and received two Academy Award nominations.

Manfred Honeck, internationally renowned music director for the Pittsburgh Symphony Orchestra (PSO), received a Doctor of Fine Arts degree. Honeck has led the PSO since 2008 to great acclaim. He is a sought-after guest conductor who has performed with some of the leading orchestras of the world.

Telle Whitney, president and CEO of the Anita Borg Institute for Women and Technology, was awarded a Doctor of Science and Technology degree. Under her leadership, the Anita Borg Institute has expanded opportunities for women in technology professions, enabling women to make new and varied contributions to computing and related fields. She has earned numerous awards for her work, including the Association for Computing Machinery's Distinguished Service Award.
Related Links: Carnegie Mellon University's 117th Commencement [video] | Behind the Scenes at Commencement 2014 [video] | Commencement Information | Read more about the speakers
---