1000Plus To Serve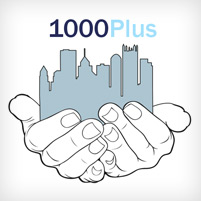 More than 1,000 faculty, staff, students and alumni from Carnegie Mellon University volunteered to plant trees, clean up trash, sort donated clothes, assist at pet shelters and more in their communities on March 29, 2014.  

The massive effort — known as 1000Plus — has expanded beyond Pittsburgh in recent years and now includes Detroit, Boston, New York City and Raleigh-Durham.  

The name comes from CMU's annual effort to engage at least 1,000 people to dedicate 1,000 hours of service and help communities in 1,000 different ways.

On average, a volunteer will devote about four hours of service on the designated day, which often falls on the last Saturday in March.

"Those four hours might not seem like much but four times 1,000 is about 4,000 hours of service commitment, and that makes a huge impact," said Vivian Chang (DC'14), president of the 1000Plus executive board.
 
In 2013, volunteers participated in group activities that included light repairs, painting, landscaping and sorting donated items.

"The volunteer coordinators at our service sites are always so grateful for our volunteers," Chang said. "One nonprofit told us they would have had to spend $20,000 on the labor that our 200 volunteers did in four hours."

Bennett Kriete (E'14) is vice president of marketing for 1000Plus. He and site leader trainer Lara Dorko (DC'14) helped with logistics this year. Kriete also met with representatives of participating nonprofits to understand the impact volunteers made.

"I value service as part of the CMU experience because I feel we are morally obligated to give back to this amazing city in which we have the opportunity to attend school," Kriete said. "And 1000Plus is a great springboard for other service at CMU."

Elizabeth Vaughan, director of student activities, agreed.

"It's a way to understand our community much more broadly. Sometimes we get so wrapped up in our academic pursuits here at CMU, we forget that people all around us are facing challenges. Community service is a way to reconnect with that," she said.

Many 1000Plus student volunteers discover a passion for a particular social issue and rethink post-graduation plans, Vaughan said.

"I hope the day is a launch pad for many, a spark that ignites in them a true desire for making an impact in the world around them," she said.

Bruce Kasrel (DC'88), an Alumni Association Board member in Boston, has been looking for just such an opportunity to involve fellow alumni in service efforts.

"I learned about 1000Plus at the alumni clambake we have in Boston every year, and we managed to get a half-dozen alumni chapters to participate," Kasrel said. "Now there is a momentum to continue that impact."

Kasrel said he is thrilled with the idea to reconnect in this way with his alma mater.

"CMU has a great network that I wanted to continue to tap into, and I wanted to give back," he said. "The university is hitting a stride right now. It has a terrific reputation internationally, and it's a great time for more of our alumni to get involved."
---