Leading by Example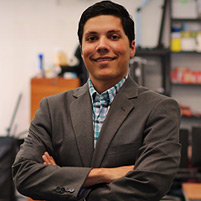 Micah Rosa
Micah Rosa
(TPR'11) came to Carnegie Mellon University determined to become a leader — and his CMU experience is helping him achieve just that. At age 21, the young entrepreneur founded
Shoutside Media
, a Pittsburgh-area marketing startup dedicated to helping small and midsize companies optimize their online presence.
"My dad always said that you don't go to college to get a job, you go to college to become a good citizen," Rosa said. "You learn how to contribute, become a community leader and take the country forward."
The North Carolina native first experienced Carnegie Mellon when he attended the
Summer Academy for Math and Science
(SAMS). The rigorous, skill-building program is supported by the
Carnegie Mellon Advising Resource Center
(CMARC), an organization committed to diversity and empowering students to excel.
Following his early high school graduation, Rosa enrolled as a CMU student at the age of 16. He chose the
Tepper School of Business
after hearing an inspiring presentation given by
Milton Cofield
, executive director of the Tepper School BSBA program.
Rosa also remained involved with CMARC.
"CMARC helped me with a lot of good opportunities," he said. "It was populated with good people that cared enough to respond to students' needs."
"Micah's attendance at SAMS typified his personal desire to always go the extra mile," said Ty Walton, director of CMARC. "An active CMARC participant, he could always be counted on to help new students make campus connections, which is CMARC's motto: 'making connections promoting success.'"
As an undergraduate, Rosa co-founded his first company, SurhRosa, as an offshoot of an Introduction to Entrepreneurship class project. That company grew into Shoutside Media, a startup that "does anything that needs to be done online" — in-house.
"Our professors were very supportive of our efforts, very flexible, with the kind of encouragement to let this happen," Rosa said. "When starting Shoutside, I said to myself, 'I'll figure it out — I'm from Carnegie Mellon.'"
In 18 months, the company that specializes in mobile website creation, search engine optimization, social media management and video creation has grown to service 65 clients.
Rosa is now giving back to his community as the youngest board member of Pittsburgh's Hispanic Chamber of Commerce.
And his advice to other CMU students?
"Start your own thing. We need our CMU students to break out with their training to become the next Morgan Stanley or Facebook. Give it a shot. See what you can do for our economy, for our communities. Be a leader."
Related Links: Tepper School of Business | Carnegie Mellon Advising Resource Center
---