International Entrepreneurs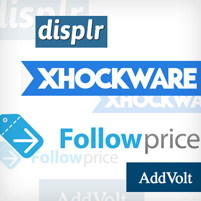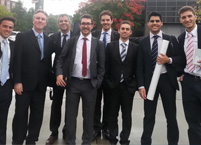 [l-r] Vasco Moreira, Rui José, Miguel Corais, David Sobrinho, Gonçalo Mendes, João Rodrigues, Ricardo Soares, Bruno Azevedo
Carnegie Mellon University's innovative ecosystem is influencing entrepreneurs in Portugal.
 
CMU Portugal Program created inRes, a very early stage startup acceleration program that brings resources from both sides of the Atlantic together.

The experience is supported by Fundação para a Ciência e a Tecnologia (FCT), the Portuguese national funding agency for science, research and technology, and has partnered with Pittsburgh Regional Alliance, CMU's Center for Technology Transfer and Enterprise Creation, CMU's Center for Innovation and Entrepreneurship (CIE) and University Technology Enterprise Network Portugal (UTEN Portugal).

Four early-stage Portuguese companies are now embedded in CMU's startup community in Pittsburgh as part of the immersion experience.

Within the CMU Portugal Program (also known as the Information and Communication Technologies Institute or ICTI), these startups are enhancing social media platforms for public displays, disrupting in-store and online shopping, and cutting costs and emissions with add-ons for delivery trucks.

João Claro, director of ICTI@Portugal, said inRes develops the teams in ways that wouldn't be possible in Portugal.

"In a small economy such as the Portuguese economy, especially in the technology area, the markets and the industries are very thin and you get to the end of your Rolodex very, very fast," Claro said. "It's very difficult for a team that is developing in this space to have access to the depth of knowledge and information that they really need to develop their businesses faster and more appropriately."

Claro contrasts that with the culture of innovation that permeates CMU and Pittsburgh.

The eight-week immersion experience thrusts teams into workshops, seminars and sessions designed to build business support networks, establish advisory boards, identify legal teams for international markets and leverage social capital, all critical areas for young tech businesses.

Through partnerships with Project Olympus, a part of the CIE, and the Pittsburgh Regional Alliance, CMU Portugal Program offers inRes entrepreneurs an opportunity to glean from the successes of other entrepreneurs and gain industry insights.

"The fact that they are able to stay at Project Olympus and sit side by side with other startups and more seasoned entrepreneurs helps them get a better understanding of the challenges and solutions that you have for managing early stage, technology based businesses," Claro said.

Lenore Blum is the co-director of the CIE, founding director of Project Olympus and a professor of computer science. She said that Pittsburgh has seen a boost in its engagement in the global marketplace in recent years, thanks in part to a resurgence of manufacturing in Western Pennsylvania and international partnerships such inRes.

"The inRes Very Early Accelerator Program resonates with what we've been doing at Project Olympus since 2007. That is, we are pumping the pipeline at the very earliest stages, when teams are starting out, working with mentors and advisers, iterating and pivoting their ideas," Blum said.

José M.F. Moura, director of ICTI@Carnegie Mellon, said inRes is helpful for companies looking to expand.

"The inRes program affords them international marketplace experience," Moura said. "The contacts and experience they get here will make it much easier for them to develop their presence and market their products in the U.S."

AddVolt, Displr, Followprice and Xhockware are the four startups visiting Pittsburgh.

AddVolt develops sustainable innovation for the shipping industry. Its WeTruck product converts energy used by shipping trucks into electricity that can be stored and used to run on board refrigeration units.

The AddVolt team came in search of contacts particularly in the trucking and shipping industry.

"Since we arrived in Pittsburgh we have been through several events that allowed us to connect with people of interest for us [including] LaunchCMU and the 3 Rivers Venture Fair," said Ricardo Soares, COO of AddVolt. "The most beneficial part of the program is having the CMU Portugal inRes Core Team, Carnegie Mellon University and the Pittsburgh Regional Alliance on our side, helping and facilitating the contacts. We expect to reach more contacts in transport and logistics companies as well as people in our field of expertise quicker through them."
Related Links: CMU Portugal | InRes | InRes Teams Start Immersion Adventure in Pittsburgh
---