Heart of the Matter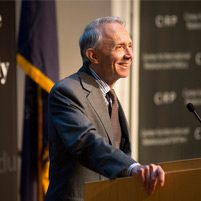 Justice Souter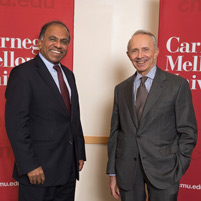 CMU President Subra Suresh, Justice David Souter
Former U.S. Supreme Court Justice David Souter discussed the central role the humanities and social sciences play in seeding innovation and perpetuating democracy during a visit to Carnegie Mellon University on Friday.

Souter's talk, "The Heart of the Matter: The Humanities and Social Sciences for a Vibrant, Competitive, and Secure Nation," called for increased support for research and renewed efforts to increase student engagement.

"The Congress of the United States, every government agency, and indeed every private agency that provides funding for research and development has an obligation not only to the STEM subjects, but to the humanities and to the social sciences," Souter said. "It is identical to the obligation that those who set university curriculums have: to guarantee that their graduates, whatever their majors may be, have had a training in these certain ways of thinking. Each of these obligations is identical to the obligation of funders and educators to the future of the United States, to its liberty and to its prosperity. It is an obligation that simply cannot be exaggerated."

As the speaker in this year's John and Mary Lou Lehoczky Lecture Series in the Humanities and Social Sciences, Souter expounded on the American Academy of Arts and Science's recently completed report on the state of the humanities and social sciences, also titled "The Heart of the Matter."

Souter, who was a member of the committee that compiled the report, drew on nearly two decades on the bench of America's highest court and his lifelong study of law, literature and history. In his lecture, he argued that the habits of mind cultivated by studying English, history, political science, social and decision sciences and statistics are essential for navigating the ethical, political and economic dilemmas facing America.

His points directly link to CMU's approach to teaching, researching and representing the humanities and social sciences. CMU's humanists and social scientists regularly use their research to solve problems and impact society as well as remain tied to the disciplines' classical backgrounds.

Philosophers are engaged in research related to medical ethics, computation, biomedical research and human rights; historians are developing policy recommendations for forensic DNA profiling and drug addiction; decision scientists analyze risk and behavior in problems ranging from obesity to climate change; statisticians work with experts in cybersecurity, brain science, data science, education and other fields to solve complex and challenging issues.

"We are honored to have had Justice Souter join us," said Kiron Skinner, associate professor of social and decision sciences and director of CMU's Center for International Relations and Politics (CIRP). "His long and storied career in our legal system is an example of the power of a humanities and social sciences-backed education can have, and it is extremely fitting that he gave the Lehoczky Lecture."

Sponsored by CIRP, the American Academy and the Dietrich College, Souter's talk on the American Academy's "Heart of the Matter" report follows the first Pittsburgh-based discussion of it that CMU hosted as part of President Subra Suresh's inauguration series last spring.
Related Links: 'Heart of the Matter' | Dietrich College of Humanities and Social Sciences | CIRP | CMU Honors John and Mary Lou Lehoczky With New Lecture Series
---